Shubhaga Jalisatgi Named the 2014 Recipient of the Amy Lenk Staff Excellence Award at the School
The Ceremony Included Recognition of Employment Anniversaries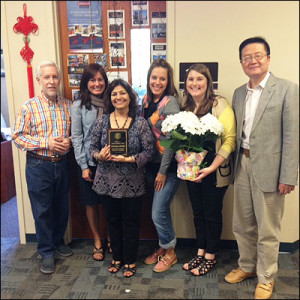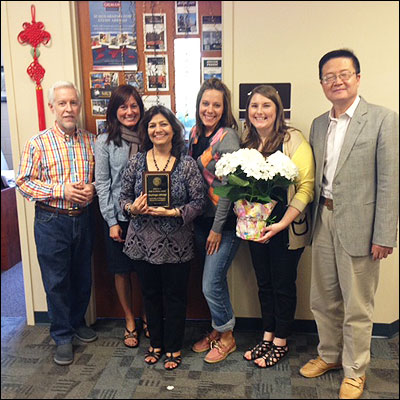 Columbia, Mo. (May 12, 2014) — Shubhaga Jalisatgi, an executive assistant in the Global Programs office at the Missouri School of Journalism, is the 2014 recipient of the Amy Lenk Staff Excellence Award. The announcement was made during the May 9 recognition ceremony in the Fred W. Smith Forum of the Reynolds Journalism Institute. Jalisatgi received a $500 cash award and a plaque.
Amy Lenk, for whom the Pat on the Back Award was renamed in 2009, attended the event. Lenk retired in 2009 after 35 years of service with the School.
Jalisatgi's colleagues have dubbed her the "office chief" in reference to her ability to juggle the multidimensional and multicultural activities of the School's 20-plus international programs.
"She fields dozens of calls, interacts with dozens of people every week, fields countless calls from around the world, and handles tasks large and small with ease," said Fritz Cropp, associate dean for Global Programs. "It's not an exaggeration to say that Shubha makes our entire office a happy place to work."
Comments from other nominators included the following:
"I have rarely come across a person who is so attentive to the minutest of detail. She never hesitates taking on any challenge or difficult task in our office and also makes sure that these projects are successfully completed."
"Without Shubha's contributions and professionalism we simply would not be able to carry out both our office and campus mission."
"She chooses to go the extra mile to meet the needs of our students, travelers and visitors."
"Shubha shares her wonderful sense of humor on a daily basis, which lends to a fun and delightful office environment."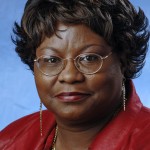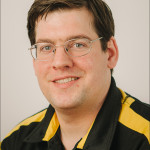 Other nominees for this year's Amy Lenk Staff Excellence Award were:
Several staff members were also recognized for employment anniversaries with the University of Missouri:
5-year
Tami Lorenson, study abroad adviser, Global Programs
Sarah Smith-Frigerio, senior academic adviser, Graduate Studies
10-year
15-year
Amy Johnston, administrative assistant, Investigative Reporters and Editors
Warren Mayer, I-Net administrator, Office of Planning and Communications
20-year
Zhi Gang Sun, former director, Center for Advanced Social Research
25-year
Pat Sternberg, academic adviser, Missouri School of Journalism
30-year
Rene Rau, executive assistant, Reynolds Journalism Institute
Updated: July 27, 2020
Related Stories
Expand All
Collapse All
---