Joe Collins, Missouri School of Journalism IT lead, awarded Extraordinary Service Award
COLUMBIA, Mo. (March 21, 2023) — Joe Collins, who leads the Missouri School of Journalism's IT staff, has earned the Extraordinary Service Award from the MU Staff Advisory Council.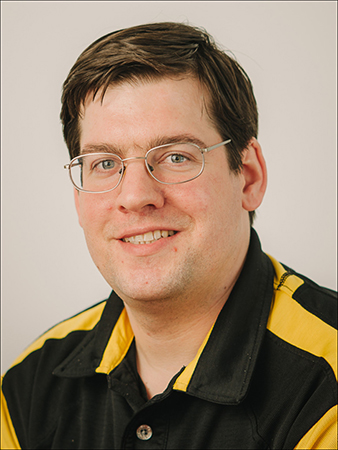 "Joe's work is crucial to the success of students, faculty and staff on a daily basis," said David Kurpius, dean of the School of Journalism. "His approach to his work represents the service-oriented mindset that is at the heart of everything we do, and this award reflects the positive impact his leadership and expertise have had throughout the School."
The award comes in Collins' 11th year in IT at Mizzou. He took the helm of the School of Journalism's IT team in 2019, just a few months before the onset of the COVID-19 pandemic required the university to adapt to a new normal in terms of remote work and technological needs. It was a baptism by fire, but he came away with a new level of self-assuredness.
"I was kind of forced to step up and take control of the situation," Collins said. "It was stressful, but I think it actually helped me. After I got through that, it kind of gave me some more confidence in what I can do."
Of course, Collins is no stranger to stressful situations. Some of his earliest IT experience came during two tours of Army service in Iraq, where he officially served as a tank driver but eventually became his company's de facto tech support.
"While we were deployed, I did most of the manning of the radios in what we called the tactical operations center," he said. "It felt good. It felt like I was doing something important."
While lives may not be on the line in his work at the School of Journalism, he still ensures that people at the School feel heard and valued by their IT team, an approach that won him praise from Andrea Mosca, program coordinator for the Novak Leadership Institute and Collins' nominator for the award.
"[Joe] was my first example of the University's Technical team, and I was treated with such warmth and kindness along with a professional, courteous attitude," Mosca said. "He took my calls and didn't shy away when I had issues. I never heard the words, 'I'm just too busy now.'"
Indeed, ever since Collins was old enough to understand how computers worked, he has never been too busy to fix one.
"When I was in fifth grade, my uncle Rick would bring me computers that his company was surplussing or throwing out," Collins said. "He was like, 'can you make this work?' He would even have people at his job who said, 'hey, can your nephew fix this for me?' So basically, I was fixing computers out of my bedroom in the fifth grade."
Decades later, he has made a career out of keeping technology running smoothly. But it's his understanding of what it means to work as a team — whether in the Army or in the world's premier journalism school — that makes his work award-worthy.
"If your users are afraid to come to you, they're going to keep big issues from you," Collins said. "We want users to feel very comfortable coming to us and know that we're going to treat them right. They know that if they spill water on their laptop, we're not going to shame them or anything like that. We'll say, 'you know what? It happens.' We want people to feel welcome."
Updated: March 22, 2023
Related Stories
Expand All
Collapse All
---