Joe Collins
Support Systems Administrator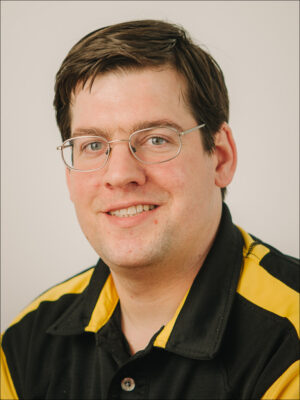 Download High-Resolution Photo
Journalism IT - Team Lead
276-B Gannett Hall
Missouri School of Journalism
Columbia, MO 65211-1200
JOE COLLINS leads the Journalism IT staff at the Missouri School of Journalism. Collins joined the School of Journalism's IT staff in January of 2012 and was promoted to lead the staff in September of 2019.
Collins and his team are responsible for purchasing and maintaining the School of Journalism's classroom and lab technology, as well as faculty and staff computers.
Prior to joining the School of Journalism, he served as a PC Support Technician in the Academic Technology Department at Blinn College in Bryan, Texas. Collins earned an Associate of Science in Business Information Systems at Blinn College.
Collins currently serves as a member of the following working groups and committees that advise the Division of IT: Windows Configuration Team, Apple Innovators Group, Microsoft 365 Group, and the Technology Evaluation Subcommittee.
In his free time Collins enjoys playing Euro-Style Strategy board games with friends and family. His favorite board games are Firefly, Caverna, Terra Mystica, Fuedum, and Scythe.
Updated: April 4, 2023