Cheryl Spang Named Recipient of the Amy Lenk Staff Excellence Award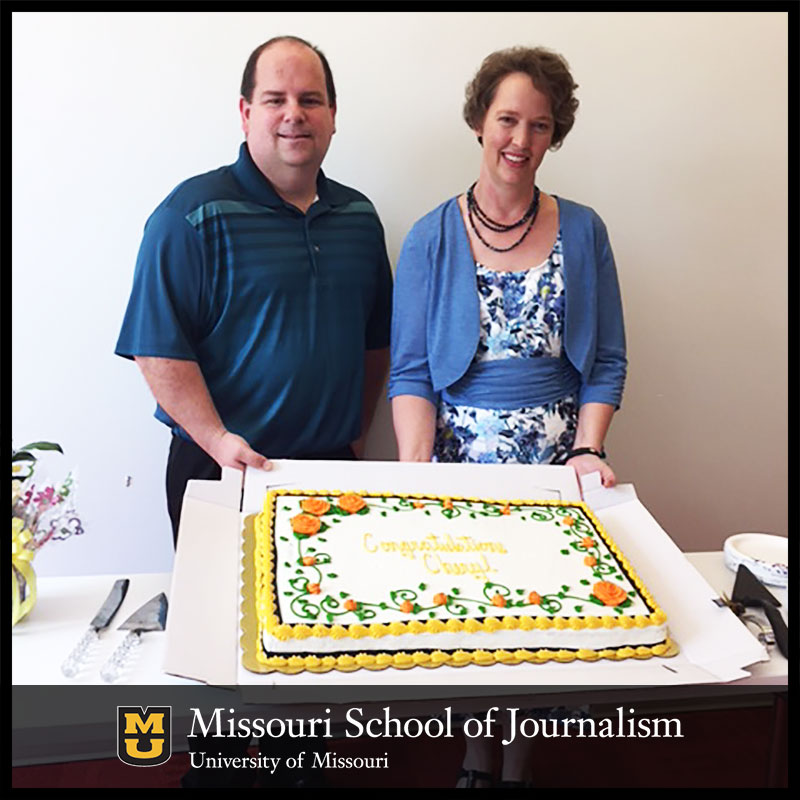 Cheryl Spang, winner of the 2107 recipient of the Amy Lenk Staff Excellence Award, is joined by her husband Dack at the reception. Spang serves as the School's business manager.
Nominators Cited Her Work Ethic, Knowledge and Professionalism
Columbia, Mo. (May 18, 2017) — Cheryl Spang, business manager for the Missouri School of Journalism, is the 2017 winner of the Amy Lenk Staff Excellence Award. She was named during a recognition ceremony on May 12 in the Fred W. Smith Forum at the Reynolds Journalism Institute. Missouri School of Journalism Dean David Kurpius presented Spang with a plaque and a $500 award.
The tribute, formerly the Pat on the Back Award, was renamed in 2009 in honor of Amy Lenk, who retired in 2009 after 35 years of service with the School.
Each year this award is presented to a staff person who exhibits high levels of professionalism, initiative and creativity. Other selection criteria include helpfulness, innovative thinking and a commitment to the School and the University.
Many throughout the School wrote nomination letters, calling Spang a tireless and under-appreciated champion for the School of Journalism. Others commented on her eye toward the greater good, top-notch ethical standards and a work ethic that is exhausting to witness.
Others nominated for the award were:
Becky Acton, fiscal analyst, Reynolds Journalism Institute
Kara Lehenbauer, office support assistant, Reynolds Journalism Institute
Laura Redfield-Jacobs, administrative assistant, Reynolds Journalism Institute
Janet Sievel, academic adviser
Alan Toigo, assistant to the associate dean for undergraduate studies
Shawn Wallace, academic adviser
Several full-time staff members also were recognized for continuous service anniversaries with the University of Missouri:
5 Years
Becky Acton
Joe Collins
John Cowell
Wendy Gustofson
Trevor Harris
Kristofor Husted
Shubhaga Jalisatgi
Megan Luther
Jennifer Nelson
Randy Picht
Megan Schumacher
10 Years
Kimberly Beamer
Christi Dawson
Patrick Muck
Ted Peterson
Roberta Pickerell
Cindy Roe
Rob Weir
15 Years
Pia Christensen
Heather Feldman
Robin Nichols
Brian Steffens
Shawn Wallace
20 Years
Bruce Moore
Nancy Stockett
30 Years
Updated: October 22, 2020
Related Stories
Expand All
Collapse All
---