Undergraduate Advisor Urska Lenart Wins Advising Forum Shout Out Award for May
The Campus-Wide Award Recognizes Efforts to Help Students Achieve Their Academic Goals
Columbia, Mo. (May 15, 2014) — Missouri School of Journalism academic advisor Urska Lenart is the winner of the Shout Out Award for May.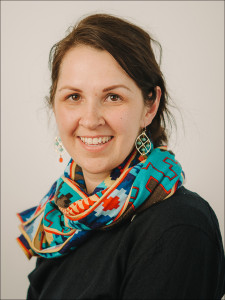 The University of Missouri Advisors Forum sponsors the Shout Out Award. It was first presented in December 2010, is awarded twice a semester and recognizes undergraduate advisers for the impact they make on students' lives.
One student nominator credited Lenart for helping her achieve her dream of studying abroad.
"For the past three years, she has been helping me to tailor my schedule for a semester abroad and continuously encouraging me to pursue my goal," the student said. "I should not have been surprised that even while in London, Urska would still be in touch. She reached out to me in February to set up a Skype session so that we could work out the scheduling of my senior year. I consider myself very lucky to have been appointed to an advisor as caring and knowledgeable as Urska, and know that even after graduating, I will stay in contact with her."
Another student appreciated Lenart's concern for his scholarship.
"I would go into her office a nervous, panicky fool, only to emerge as the most confident man on campus," he said. "She has an incredible way of bringing passion to the forefront and instilling a simple belief in oneself that is nothing short of miraculous."
There were 15 advisers from across the University of Missouri campus nominated for the May Shout Out Award. Winners receive a gift card and are recognized at the MU Advising Forum meeting. They also sign the traveling advising Shout Out megaphone, which is kept in their office until the next award is presented.
Other members of the School's advising staff were nominated for this and previous semesters' competitions. They are Amy Bruer, Janet Sievel, Pat Sternberg and Shawn Wallace. Nominators expressed appreciation for their helpfulness, availability, patience, interest and willingness to listen.
Updated: July 27, 2020
Related Stories
Expand All
Collapse All
---