Graduate Academic Adviser Martha Pickens Wins a 2013 Chancellor's Outstanding Staff Award
Columbia, Mo. (April 11, 2013) — Martha Pickens, an academic adviser in the Graduate Studies office at the Missouri School of Journalism, has won the 2013 Chancellor's Outstanding Staff Award for her office/secretarial services to the University of Missouri.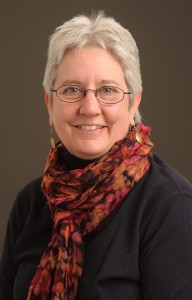 Chancellor Brady Deaton will recognize Pickens and the other winners in the administrative/professional, technical/paraprofessional and crafts/maintenance categories at a May 20 ceremony. Each will receive a $2,000 award.
The award honors the outstanding contributions of the recipients through a combination of job performance, job-related personal qualities, relationship with their associates, and the ability to relate their work to the missions and values of the University.
Pickens joined the University in July 1991. Her duties include providing professional guidance for approximately 250 on-campus master's students, managing the fiscal aspects of the graduate program and overseeing language screenings and training for international students. She is the adviser for the Journalism Graduate Students' Association.
Professors Mike Jenner and Bill Allen spearheaded Pickens' nomination, which included comments from Esther Thorson, associate dean of graduate studies, and numerous graduate students.
They noted that Pickens' duties are diverse and critical.
"We and many others find her to be virtually flawless in performing them," the nominators said. "But Martha goes above and beyond all the time."
The nominators highlighted a variety of Pickens' exceptional characteristics, including:
Untying impossible knots: "She is a creative problem-solver and deep listener with a great sense of humor. Martha knows the university's rules, policies and people better than some people know their own family, and she is known and respected from one end of the campus to another."
Balancing detail, larger vision, improving the program: "Martha is a strategic thinker who effectively balances attention to detail with larger vision. She keeps her ears open to feedback from faculty and students and looks for ways to initiate improvements to our program."
Relationship with associates: "We can attest to the positive, active and productive working relationship Martha has with the Journalism School faculty and administration that helps make this School be a great place to work, create, teach and conduct research at very high levels."
Dedication to mission and values of the University: "Martha lives the values of MU – responsibility, respect, discovery and excellence."
Students applauded Pickens' efforts on their behalf.
"Her friendliness, ability to help with all aspects of relocation to Missouri including compiling housing suggestions, and plan out a course of study perfect for me was such an influential factor in my decision to come here," said master's student Gwen Girsdansky.
"Though Einstein would say it's impossible, Martha seems to have endless minutes for grad students like me," said master's student Sarah Alban. "I've never wandered into Martha's office when she wasn't jubilantly willing to drop her thoughts and sign a form, answer a question, provide instruction, send an email on my behalf, or otherwise take an interest in my academic doings."
Doctoral student Alecia Swasy suggested a larger award for Pickens: "We really should name a building after Martha."
Master's student Courtney Shove summarized the overall sentiments: "I have never once seen Martha Pickens in a bad mood. Her actions continually show me that the work she does is for the students – not for her own convenience or praise. She's a gem."
The Chancellor's Outstanding Staff Award is the second MU-wide award for Pickens. She received a "Tribute to MU Women 2004? award by the Chancellor's Standing Committee on the Status of Women.
Updated: July 15, 2020
Related Stories
Expand All
Collapse All
---