Pete Ozias Wins University of Missouri 2019 March Service Champion Award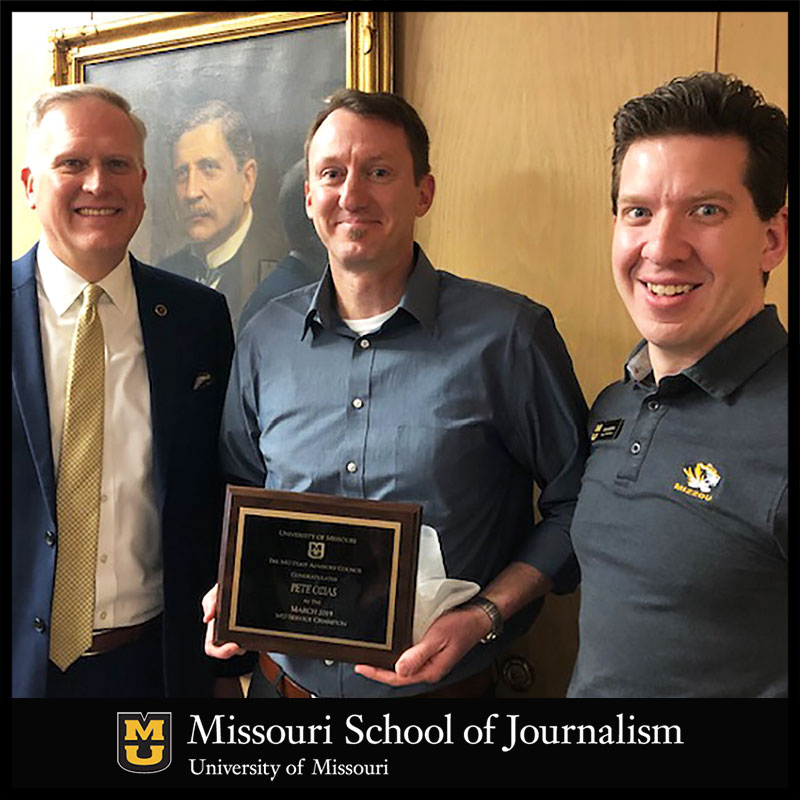 Congratulations to Pete Ozias, the School's director of undergraduate advising, recipient of the March 2019 Service Champion award from MU Staff Advisory Council. Pictured with Pete is, on the left, Journalism Dean David Kurpius and Sean Brown.
Columbia, Mo. (March 29, 2019) — Pete Ozias, director of undergraduate advising, has received the University of Missouri Service Champion Award for March.
The award recognizes outstanding staff members who go above and beyond what is expected. The Staff Advisory Council selects one person each month for this honor. Ozias received a variety of thoughtful and useful gifts from the MU Staff Advisory Council and special recognition at the Staff Recognition Week in May.
Ozias learned of his selection when members of the Council surprised him with the announcement during a bi-weekly journalism school curriculum committee meeting.
Ozias' responsibilities span a broad range of activities, including leading a team of seven professional advisors and several peer advisors, collaborating within the Journalism School and across the University of Missouri campus to enhance programs, policy and procedures, and academic advising for students working toward a Bachelor of Journalism degree.
"Pete doesn't deem tasks as too small or unworthy of his attention, yet he prioritizes to see the big picture and opportunities to move his team forward," said Lynda Kraxberger, associate dean for undergraduate studies and Ozias' supervisor. "His unflappable demeanor and compassion provide him with the perfect skillset to listen, understand and navigate what are often turbulent waters for our undergraduates. He carefully balances the need for a student-friendly approach to advising with the rigors and requirements of academic excellence set forth by faculty."
Ozias has worked many years with students from a variety of majors. During his career, he has developed innovative programs aimed at meeting student service needs. Highlights of his work include program coordination and teaching students the finer points of persisting to graduation.
In addition to his professional experience, Ozias also holds advanced degrees in both sociology and counseling.
Updated: November 6, 2020
Related Stories
Expand All
Collapse All
---