Senior Academic Advisor Jill McReynolds Retires After 36 Years at MU
She Has Advised Tens of Thousands of Students During Her Time at the Missouri School of Journalism
By Rebecca Dell
Columbia, Mo. (May 14, 2014) — Jill McReynolds, senior academic advisor, is retiring after 36 years at the University of Missouri. Twenty-six of those years were spent in the School of Journalism.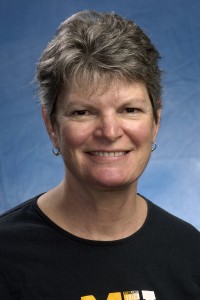 "I have thousands and thousands and thousands [of kids]," McReynolds said, "and they're all journalists and strategic communicators."
Indeed, there are tens of thousands. McReynolds guided more than 2,000 students a year through scores of curriculum and program changes, including the introduction of the capstone requirement in 1996 and the Walter Williams Scholars Program in 2004. She started in the School of Journalism as the original pre-journalism academic advisor.
Before McReynolds came to the program, the journalism faculty would hold large sessions in Fisher Auditorium to sign off on requirements. When she started in the new role, students would come sign up for one-on-one appointments via a sign-up sheet on her door. Now McReynolds has five advisors, an administrative assistant and three student workers on her staff. She's been training them so that when the School hires her replacement the transition will be smooth. Still, Associate Dean Lynda Kraxberger said her expertise will be missed.
"I don't think there is a person here who doesn't know about Jill's caring nature and her institutional knowledge and her ability to tell us both the highlights and lowlights of the school's history," Kraxberger said. "I think where Jill has always excelled is really helping those students who don't fall into that upper 10 percent. There are a lot of students who really need an extra lift. She has this really sweet demeanor to be matter of fact with people about what has to be done while also providing a route or a way for someone to get something done."
One of McReynolds' responsibilities was implementing changes made by the curriculum committee. In fact, she had all the course numbers memorized until the university changed the numbering system 10 years ago. But McReynolds didn't just deal with numbers and technicalities; she helped students connect to the MU community. For example, McReynolds always encouraged transfer students to get involved on campus while they live off-campus.
"She's one of those people that's always looking out for that underrepresented population, and that's something I've always valued in her," Kraxberger said.
Behind the scenes McReynolds has ensured the undergraduate catalog is up to date. She has helped with the graduation ceremonies, missing only two in 26 years.
Outside of MU, McReynolds works with No Kill Columbia, which is currently nearing fundraising goals for opening a low-cost, high-volume spay neuter clinic. After retiring, McReynolds and her husband, Mike, plan to take their new RV around the country with their dogs, Minnie, Vinnie and Bruiser, visiting friends from Mike's time in the military. McReynolds also looks forward to an Alaskan cruise next year.
And even though she's excited to retire, many at MU will miss her.
"She is a gem in our school," Kraxberger said.
McReynolds will miss them back.
"Thirty-six years went very, very quickly," McReynolds said. "I'm going to miss all the people: my work family."
Updated: July 27, 2020
Related Stories
Expand All
Collapse All
---