Systems Administrator John Meyer Wins Amy Lenk Staff Excellence Award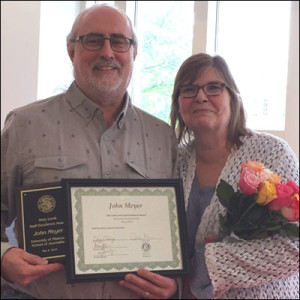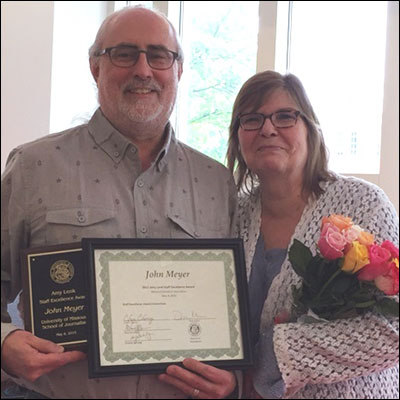 Nominators Praise His Knowledge of Technology and Helpful, Friendly Attitude
Columbia, Mo. (May 11, 2015) — John Meyer, the systems administrator at the Missouri School of Journalism, is the 2015 winner of the Amy Lenk Staff Excellence Award. He was named during a recognition ceremony on May 8 in the Fred W. Smith Forum at the Reynolds Journalism Institute. Meyer received a plaque and a $500 award.
Many throughout the School wrote nomination letters praising Meyer's knowledge of technology and his always-helpful attitude.
"I refer to him as Batman because when a call goes out for help, he swoops in to rescue us from recalcitrant software and uncooperative hardware," said Margaret Duffy, chair of strategic communication.
Kent Collins, chair of radio-television journalism, noted, "With a smile and a chatty demeanor, John is quick to reply to call for help from us laptop illiterates."
"No task is too small, and he is incredibly responsive to my requests," said Colin Kilpatrick, executive director of development.
"John has touched the lives of most every person in the school," said Helen Pattrin, executive staff assistant.
Others nominated for the award were:
Amanda Gastler, special events coordinator, Reynolds Journalism Institute
Bruce Moore, production supervisor, Columbia Missourian
Janet Sievel, adviser
Pat Sternberg, adviser
Alan Toigo, assistant to the dean for undergraduate studies
Several full-time staff members also were recognized for continuous service anniversaries with the University of Missouri:
5-Year
Amy Dunaway, Health Communication Research Center
Keli Jackson, Reynolds Journalism Institute
10-Year
15-Year
20-Year
Helen Pattrin, Advancement
Ev Ruch Graham, Association of Health Care Journalists
25-Year
The tribute, formerly the Pat on the Back Award, was renamed in 2009 in honor of Amy Lenk, who retired in 2009 after 35 years of service with the School.
Updated: September 8, 2020
Related Stories
Expand All
Collapse All
---