Faculty Select Kathleen Edwards for "Pat on the Back" Staff Recognition Award
Columbia, Mo. (May 3, 2005) — Kathleen Edwards, of the Freedom of Information Center, is the 2005 recipient of the "Pat on the Back" staff recognition award. The award includes a $500 check and a plaque.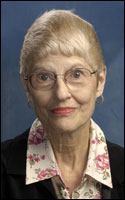 Edwards serves as the customer service manager for all FOI Center inquiries.
Selected by faculty members, Edwards was cited for her professionalism and efficiency. "She works tirelessly to further the people's right to know in dozens of ways, every day, answering the phones, helping members of the press and the public with access questions, and serving as a reference point for countless students interested in freedom of information issues," said Charles Davis, chair of the news editorial department.
This is the 15th year that the award has been given. Those nominated exhibit the highest level of professionalism, innovative thinking, initiative and creativity, helpfulness, support of the School's mission and a commitment to the School and the University.
The FOI Center maintains a day-to-day study of the actions of government, media and society that affect the free flow and content of information. The center assists an average of 2,000 journalists, scholars and other people a year with answers to questions or requests for information about access to public meetings and records. Students work at the center, and others take highly-regarded J-School courses on FOI issues.
Updated: April 7, 2020
Related Stories
Expand All
Collapse All
---