Warren Mayer Receives the 2013 Amy Lenk Staff Excellence Award
Columbia, Mo. (May 13, 2012) — Warren Mayer, the Web administrator for the Missouri School of Journalism, was named the 2013 recipient of the Amy Lenk Staff Excellence Award during the recognition ceremony held May 10 in the Fred W. Smith Forum of the Reynolds Journalism Institute. Mayer received a $500 cash award and a plaque.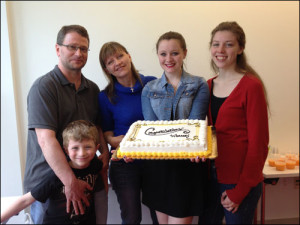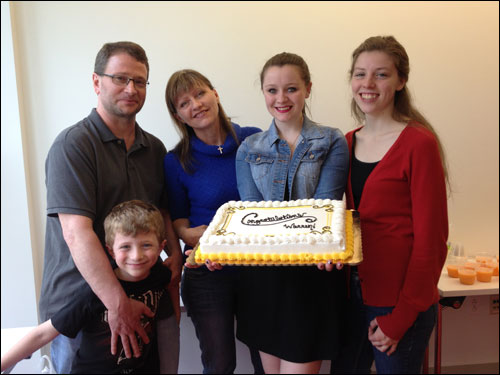 Mayer began working for the University of Missouri in January of 1993 as a senior information specialist with Mizzou Telecom, a position he held for just over five years. After an 18-month hiatus with a nationwide satellite programming provider, Mayer returned to work for the MU Department of Information Technology in 1999. Five years later, he was offered the chance to perform his Web development tasks for the School of Journalism, and he has been working for the School in his present position since August of 2004.
His nominators highlighted Mayer's high standards and willingness to assist faculty and staff.
"As a behind-the-scenes member of the communications team, many may not recognize his many contributions to the School," said Katharine Appuhn-Hodges, special events coordinator. "His work ethic, willingness to help in any situation and creative approach to solving problems make him deserving of this nomination."
Suzette Heiman, the School's director of planning and communications, cited Mayer's attention to detail and overall ownership of the website.
"The website is a 24/7 operation that has no respect for weekends, holidays, illness or vacations," she said. "Warren takes a great deal of pride in personally ensuring that our School is always presented in the best possible manner."
Other nominees for this year's award included:
Dorothy Carner, head, journalism libraries

Ginny Cowell, administrative assistant

Jill McReynolds, senior academic adviser

John Meyer, systems administrator

Sarah Samson, program coordinator, Center for Advanced Social Research

Cheryl Spang, business manager
Several staff members were also recognized for employment anniversaries with the University of Missouri:
5-year
Brad Best, advertising editor, Futures Lab

Jaimi Dowdell, training director, Investigative Reporters and Editors

Scott Gray, supervisor, Center for Advanced Social Research

Carolyn Jackson, administrative assistant

Olga Kyle, video editor, Futures Lab

Barbara Willis, assistant director, Career Services

Bryan Chester, sales representative, Columbia Missourian
10-year
Patricia Kelley, administrative assistant
25-year
30-year
Elizabeth Hardt, executive staff assistant
35-year
The tribute, formerly the Pat on the Back Award, was renamed in 2009 in honor of Amy Lenk, who retired in 2009 after 35 years of service with the School. Those serving on the 2013 Amy Lenk Staff Excellence Award Committee were Cherry Cherri, Columbia Missourian newsroom coordinator; Sarah Smith-Frigerio, graduate adviser; and Pat Muck, fiscal analyst.
Updated: July 16, 2020
Related Stories
Expand All
Collapse All
---