KHOU Defenders To Receive Medal, Present Master Classes
By D'Arcy Rapp
Columbia, Mo. (Sept. 19, 2005) — The KHOU Defenders, an investigative television news team from Houston, are the first journalists this year to receive a Missouri Honor Medal for their dedication to exposing social and corporate failings and raising consumer awareness. The four members of the Defenders, two of whom are J-School graduates, and two KHOU station managers will arrive in Columbia for two days of discussion and lessons on investigative journalism for students and faculty.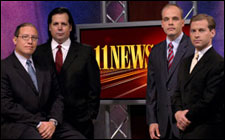 Master class presentations will be given by the KHOU Defenders on Tuesday and Wednesday, Sept. 20 and 21 at the Missouri School of Journalism. A formal presentation of the Honor Medal will be made at a luncheon on Tuesday at the Reynolds Alumni Center on the University of Missouri campus.
The Missouri Honor Medal for Distinguished Service in Journalism has been awarded by the Missouri School of Journalism since 1930. Recipients of the Honor Medal are selected by faculty of the School annually. The medals are presented to newspapers, periodicals, editors or publishers of newspapers and periodicals, or persons engaged in the practice of Journalism for distinguished service to the field of Journalism.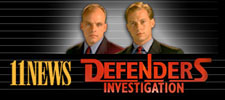 The KHOU Defenders are perhaps best known for their role in revealing flaws in the Firestone tires. KHOU's report contributed to one of the largest automobile recalls in history. The Defenders also exposed crucial errors and fraud within a Houston forensic lab in 2000, resulting in a wrongly convicted man being released from prison.
Kent Collins, Radio-TV Journalism chair, says that he was pleased that the sequence nominated the Defenders for an Honor Medal because investigative reporting is such an important part of journalism.
"KHOU is a shining example of investigative journalism, maybe the best example in local television." says Collins. "And KHOU is not a one-trick pony. The team has been doing good work for several years and broken several major national stories using investigative reporting techniques. And, it's a great satisfaction that many of those techniques were learned here at the J-School and at the J-School's Investigative Reporters and Editors partner."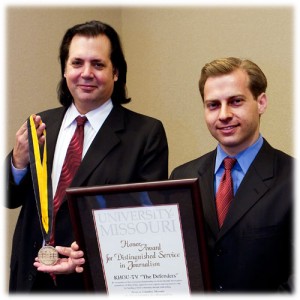 David Raziq, BJ '86, an investigative producer at KHOU, believes that his team is driven to serve the public and, for that reason, pursues their stories to depths untouched by other investigative teams.
"I find it interesting when a reporter really knows the subject and is able to do a complex take on it. That's missing a lot from broadcast reporting," says Raziq.
Raziq and fellow KHOU Defender Mark Greenblatt, BJ '00, are honored that their station was chosen to receive the prestigious award from their alma mater.
"We're simply overwhelmed, it still hasn't sunk in yet," says Raziq. "This is really a legacy award and we're extremely honored."
In addition to the class presentations, members of the KHOU Defenders will make a guest appearance on "Views of the News" for KBIA radio on Wednesday, Sept. 21. Streaming audio of the program will be available on the KBIA Web site.
---
D'Arcy Rapp, a senior from Peoria, Ill., is majoring in Radio-TV Journalism. She has interned with two NPR affiliates and with Fleishman-Hillard public relations and has created television promotions for a KOMU-TV. Rapp has served as a University Tour Guide, Journalism Ambassador, Summer Welcome leader and Peer Advisor in the residence halls. An active member of the Alumni Association Student Board and Newman Center, Rapp was recognized as one of the campus' top students when tapped into Omicron Delta Kappa, a national leadership honorary society.
Updated: April 28, 2020
Related Stories
Expand All
Collapse All
---