2010 Missouri Honor Medalists to Share Expertise, Perspectives during Oct. 28 Master Classes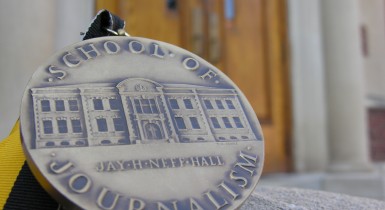 By Nathan Allen
Master's Student
Columbia, Mo. (Oct. 20, 2010) — Photographing the impact of climate change, reporting on drug trafficking in Mexico and building the Honda brand are some of the topics of this year's Missouri Honor Medal master classes. The daylong series of eight classes will begin at 9 a.m. on Thursday, Oct. 28, at the Missouri School of Journalism. All classes are free and open to the public.
The speakers, a distinguished group of journalists and an advertising practitioner, will receive the Missouri Honor Medal for Distinguished Service in Journalism at a banquet to be held that evening.

James
Balog

Cathleen
Black

Ignacio
Gomez, FLiP

Dorothy J.
Gaiter

Myron
Kandel

Larry
Postaer

Sandy
Rowe

Adela
Navarro, ZETA
Visit "Eight to Receive the 2010 Missouri Honor Medal" for more information about the Missouri Honor Medal recipients and related activities.
Updated: August 15, 2019
Related Stories