2010 Missouri Honor Medalists to Share Expertise, Perspectives during Oct. 28 Master Classes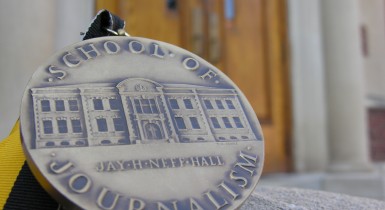 By Nathan Allen
Master's Student
Columbia, Mo. (Oct. 20, 2010) — Photographing the impact of climate change, reporting on drug trafficking in Mexico and building the Honda brand are some of the topics of this year's Missouri Honor Medal master classes. The daylong series of eight classes will begin at 9 a.m. on Thursday, Oct. 28, at the Missouri School of Journalism. All classes are free and open to the public.
The speakers, a distinguished group of journalists and an advertising practitioner, will receive the Missouri Honor Medal for Distinguished Service in Journalism at a banquet to be held that evening.

James
Balog

Cathleen
Black

Ignacio
Gomez

Dorothy
Gaiter

Myron
Kandel

Larry
Postaer

Sandy
Rowe

Adela
Navarro
9 to 9:50 a.m., "Investigating Narcotics Trafficking"
Adela Navarro, ZETA Weekly Newspaper, Fred W. Smith Forum, 200 Reynolds Journalism Institute
ZETA Weekly Newspaper is the most credible and solid journalism institution in the northwestern region of Mexico. It holds a strong influence over the social, economic and political scene throughout the five counties in Baja California.
9:30 to 10:45 a.m., "Lessons from a Life in News"
Sandy Rowe, Editor, Fisher Auditorium, Gannett Hall
Sandy Rowe was the award-winning editor of The Oregonian in Portland from 1993 to January 2010. Under her leadership, the newspaper won five Pulitzer Prizes, including the Gold Medal for Public Service. Currently Rowe is the 2010-2011 Knight Shorenstein Fellow at Harvard University.
10 to 10:45 a.m., "Drinking for Fun and Profit"
Dorothy J. Gaiter, Wine Columnist and Author, Fred W. Smith Forum, 200 RJI
Dorothy J. Gaiter, BJ '73, retired recently from The Wall Street Journal, where she wrote the popular Tastings wine column with her husband. While a student at the School, Gaiter served as one of the founding editors of Blackout, a newspaper published by the University of Missouri's African-American students, and wrote for The Savitar, the MU yearbook.
11 to 11:50 a.m., "The Media and Business: Friend or Foe"
Myron Kandel, Financial Journalist, Fred W. Smith Forum, 200 RJI
Myron Kandel pioneered financial news on television, serving as CNN's founding financial editor and economic commentator for 25 years. In 2000, TJFR, a media industry publication, named him one of the 10 most influential financial journalists of the 20th century.
2 to 2:50 p.m., "Earth Vision Trust and Extreme Ice Survey: Using Art and Science to Inspire Positive Social Action"
James Balog, Founder and Director, EIS and EVT, Fred W. Smith Forum, 200 RJI
For nearly 30 years James Balog has transcended the traditional conventions of nature photography. As founder and director of the Extreme Ice Survey, Balog is taking a monumental look at the impact climate change is having on the world's glacial landscapes.
2 to 2:50 p.m., "The Little Engine Company That Could: Building the Honda Brand"
Larry Postaer, Co-chairman, Rubin Postaer & Associates, Fisher Auditorium, Gannett Hall
Larry Postaer, BJ '59, has held many jobs on the creative side of advertising over his 50-year career. Postaer is the co-chairman of Rubin Postaer & Associates, one of the largest independent ad agencies in the country.
3 to 3:50 p.m., "Telling Stories under Crossing Fire in Colombia"
Ignacio Gomez, Foundation for the Freedom of the Press, Fred W. Smith Forum, 200 RJI
The Foundation for the Freedom of the Press was created in the mid '90s by a group of journalists who were worried about an average of seven colleagues being killed per year. They decided to join efforts to fight the violence, the impunity on those killings and other threats against the freedom of expression in Colombia.
4 to 4:50 p.m., "From Gutenberg to Zuckerberg: Re-inventing Success in Media and Life"
Cathleen Black, Chairman, Hearst Magazines, Fred W. Smith Forum, 200 RJI
Cathleen Black, considered "The First Lady of American Magazines" and "one of the leading figures in American publishing over the past two decades" by the Financial Times, is chairman of Hearst Magazines, a division of Hearst Corporation and one of the world's largest publishers of monthly magazines.
Visit "Eight to Receive the 2010 Missouri Honor Medal" for more information about the Missouri Honor Medal recipients and related activities.
Updated: January 22, 2020
Related Stories