Honor medalists share expertise with packed classrooms during master classes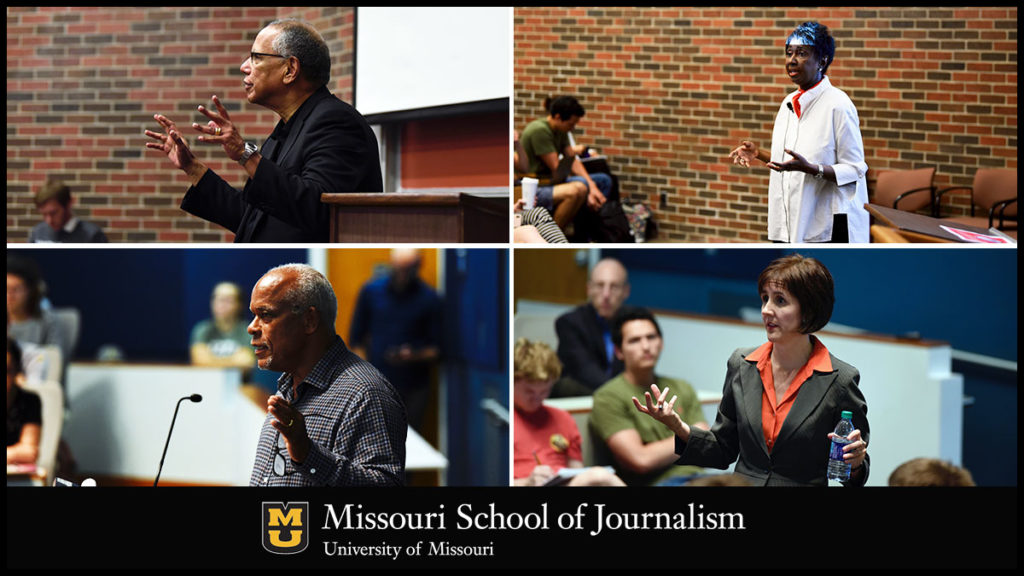 Recipients of the 2019 Missouri Honor Medal for Distinguished Service shared their expertise and passions with packed classrooms earlier this week during their master classes.
This year's winners were Dean Baquet, Burrell Communications Group, Stanley Nelson and Marina Walker Guevara
By Jennifer Nelson
Columbia, Mo. (Oct. 4, 2019) — The four recipients of the 2019 Missouri Honor Medal for Distinguished Service shared their expertise and passions with packed classrooms earlier this week during their master classes. Topics ranged from producing documentaries to what goes into connecting with an audience through an ad.
Missouri School of Journalism faculty members select medal recipients based on their achievements in journalism. Medals have been handed out annually since 1930.
Here are a few highlights from this year's classes: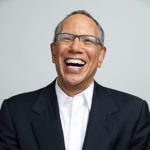 Dean Baquet: "Why Reporting Matters in an Age of Opinion and Snark"
New York Times Executive Editor Dean Baquet, who has worked in newsrooms including the Los Angeles Times since he was 19, fielded questions from students for more than an hour about several topics including:
His journey through journalism as a person of color.
Whether national publications such as The New York Times have a responsibly to report on undercovered areas across the country lacking news outlets.
If diversity is valued at The New York Times.
What went into the decision to publish more characteristic information about the Ukraine whistleblower?
The whistleblower's actions led to an impeachment inquiry into President Donald Trump by Democrats in the U.S. House of Representatives. Trump reportedly called the person's actions a "political hack job," according to The New York Times. Baquet said he wanted to give readers information about the person that would help them assess the person's credibility.
"At a moment when Americans are having to decide whether or not to support an impeachment investigation against the president of the United States, I thought people had the right to know the way the president had characterized him was not necessarily true," said Baquet.
Although this decision led to many complaints from readers, he said, he wants there to be little that he knows that the readers don't know. Once you make a decision you believe is right, "you have to stick to your guns," he said.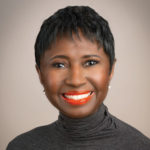 Burrell Communications Group: "The Thought Behind the Ad"
Co-CEO McGhee Osse spoke on behalf of the Burrell Communications Group, a nearly 50-year-old marketing and communications agency in Chicago and Dallas. The agency has worked on campaigns for companies including Walmart, Coca-Cola, McDonald's, Toyota and the Ad Council.
According to Osse, the transcultural agency targets a number of different audiences, but started "with the African American experience at its core."
Targeting audiences means understanding cultures and digging for insights, she said.
"Our work is insight driven," she said. "Good advertising starts with good insights and you have to devote the time and the energy and the research to arrive at those insights."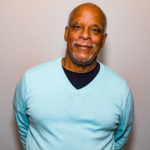 Stanley Nelson: "Directing and Producing Historical Documentaries"
Stanley Nelson is the co-founder of Firelight Films, where he helps produce documentary films. He is also the executive director of Firelight Media, which helps filmmakers of color from across the country produce and air films. During his master class, he talked about several of his films and showed clips from "Sweet Honey in the Rock: Raise Your Voice," "Miles Davis: Birth of the Cool," "The Murder of Emmett Till" and "The Black Panthers: Vanguard of the Revolution."
He shed some light on what went into producing films such as "The Black Panthers," which focused on a group that fought against police brutality against African Americans. Nelson said some people have asked him how his crew was able to convince the police to be part of the film.
"We always try to be honest with people," he said. "This is your chance to share your side of the story. We don't want the story from one side."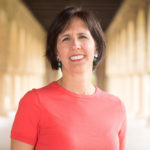 Marina Walker Guevara: "Trust, Technology and Teamwork can Reveal a Global Truth"
Marina Walker Guevara, MA '05, deputy director of the International Consortium of Investigative Journalists, talked about how investigative journalists have often worked alone on their projects. But this can be expensive and make journalists an easy target for attacks, she said. The formation of the ICIJ provided journalists a more efficient way to work on projects through collaboration and it gave them a shield of protection, she said.
Now ICIJ is exploring how artificial intelligence can be a collaborative partner with journalists. She said it could help with big data projects by sorting and classifying information, for example. Guevara said the Panama Papers project is a good example of how time-consuming projects can be since it involved lots of manual labor for journalists.
"We just need to let the computers do their work and contribute their intelligence, knowing their intelligence is limited and journalists are always going to be needed," she said.
Updated: November 10, 2020
Related Stories
Expand All
Collapse All
---