4 to Receive the Missouri Honor Medal for Distinguished Service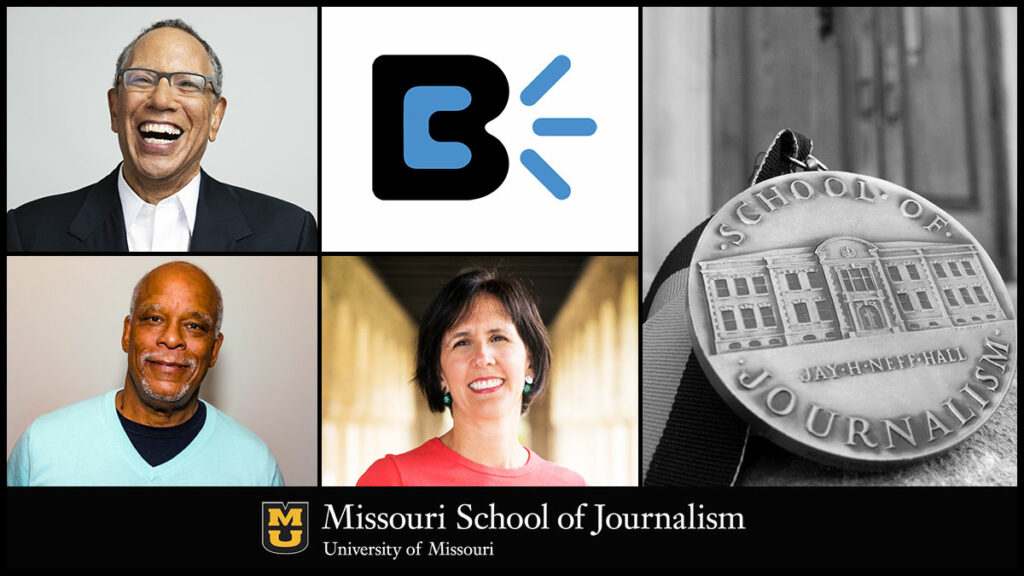 Winners of the 2019 the Missouri Honor Medal for Distinguished Service are Dean Baquet, Burrell Communications Group, Stanley Nelson and Marina Walker Guevara, MA '05.
The ceremony will take place on Wednesday, Oct. 2, on the University of Missouri campus.
Columbia, Mo. (July 9, 2019) — The Missouri School of Journalism has announced the 2019 recipients of the prestigious Missouri Honor Medal for Distinguished Service. The three individuals and one agency will receive their medal during an evening reception and banquet on Wednesday, Oct. 2, that begins at 6 p.m. at The State Historical Society's Center for Missouri Studies, 605 Elm St., on the University of Missouri campus.
Medalists are selected by the faculty of the School on the basis of lifetime or superior achievement in journalism. The Missouri School of Journalism has awarded the Missouri Honor Medal for Distinguished Service annually since 1930 to outstanding journalists, advertising and public relations practitioners, business people, institutions and media organizations from around the world. Among them are Christiane Amanpour, Sir Winston Churchill, Gloria Steinem, Deborah Howell, David Granger and Gordon Parks.
During the day the medalists will present master classes on topics related to their areas of expertise to Missouri School of Journalism students and other guests.
Those to be honored are:
Dean Baquet
Dean Baquet is executive editor of The New York Times, a position he assumed in May 2014. He is the first African American to hold the highest-ranked position in The Times's newsroom, and he oversees news reports in all its various forms. Before being named executive editor, Baquet was managing editor of The Times and previously served as Washington bureau chief. Baquet rejoined The Times after several years at the Los Angeles Times, where he was editor for two years. Previously, Baquet was National editor and deputy Metro editor of The New York Times. He started his career at the Times-Picayune in New Orleans, working there for nearly seven years before reporting for the Chicago Tribune. There he handled investigations and was chief investigative reporter, covering corruption in politics and the garbage-hauling industry.
Baquet is the recipient of the industry's highest honors as well as numerous local and regional recognitions. He was awarded a Pulitzer Prize for investigative reporting in March 1988 when he led a Chicago Tribune team of three in documenting corruption in the Chicago City Council. He was a finalist for a Pulitzer Prize in 1994 in the investigative reporting category. Baquet studied at Columbia University.
Burrell Communications Group
Burrell Communications Group is one of the leading and most highly-regarded multicultural advertising agencies in the country with annual billings exceeding $200 million dollars and a roster of blue-chip clients that lead in their respective categories – including Procter and Gamble, McDonald's, Comcast, Toyota, Walmart, and the W.K. Kellogg Foundation.
McGhee Osse, co-CEO of Burrell Communications Group, will accept the Missouri Honor Medal on behalf of the agency.
Burrell is known for its leadership, solid strategic approaches, creative astuteness and forward thinking. In 2017, the agency launched a pioneering Social Listening Lab, a focus group comprising 10,000 African-American influencers that is used to measure or evaluate campaign concepts and social issues. Osse is credited with starting the agency's Yurban marketing initiative, which became the gold standard in reaching youth and young adults during the early days of Hip Hop.
The agency has won some of the industry's highest awards during its nearly 50-year history. Recent honors include being named runner-up to Ad Age's Agency A-List Multicultural Agency of the Year in 2018, Black Enterprise's Advertising Agency of the Year and a Gold National ADDY Award.
Stanley Nelson
Stanley Nelson is among the premier documentary filmmakers working today. His feature-length films combine compelling narratives with rich and deeply researched historical detail, shining new light on both familiar and under-explored aspects of the American past. In addition to honors for his individual films, Nelson and his body of work have garnered every major award in the industry. He is a MacArthur "Genius" Fellow, and was awarded an individual Peabody Award, the 2016 Lifetime Achievement Award from the National Academy of Television Arts Sciences, and received the National Medal in the Humanities from President Barack Obama.
Nelson's latest film, "Miles Davis: Birth of the Cool," premiered at the 2019 Sundance Film Festival, marking Nelson's tenth premiere at the prestigious festival in 20 years, the most premieres of any documentary filmmaker. Nelson has directed and produced more than 20 films in his career that examine civil rights, racial profiling, desegregation and social justice causes, among other topics.
In 2000, Nelson and his wife, Marcia A. Smith, founded Firelight Media, a non-profit production company dedicated to using historical film to advance contemporary social justice causes, and to mentoring, inspiring and training a new generation of diverse young filmmakers committed to advancing underrepresented stories. Firelight received a MacArthur Award for Creative and Effective Institutions in 2016.
Marina Walker Guevara
Marina Walker Guevara is the deputy director of the International Consortium of Investigative Journalists (ICIJ) and a 2019 John S. Knight journalism fellow at Stanford University. She managed the two largest collaborations of reporters in journalism history, both of which involved hundreds of journalists using technology to unravel stories of public interest from terabytes of leaked financial data. One collaboration, the Panama Papers, published in 2016, has helped recover more than $1.2 billion in fines and back taxes collected by governments around the world. The other, the Paradise Papers, published in 2017, exposed the offshore financial hideaways of iconic brands and power brokers across the global political spectrum.
Before becoming an editor, Walker Guevara investigated environmental degradation by mining companies, cigarette smuggling by leading tobacco firms and the shadowy world of offshore finance. Her story "Children of Lead" revealed a public health crisis in a Peruvian town caused by an American-owned lead smelting company. She has won and shared more than 40 national and international awards, including a Pulitzer Prize for Explanatory Reporting. She earned a master's degree in journalism from the University of Missouri and also graduated from Universidad Nacional de Cuyo in Mendoza, Argentina. Walker Guevara originally came to the U.S. from Argentina for a fellowship with Alfred Friendly Press Partners, a journalism training program based at the Missouri School of Journalism.
Updated: July 13, 2021
Related Stories
Expand All
Collapse All
---