Carol H. Williams to Receive Missouri Honor Medal, Deliver Major Address on Market Segmentation
By Rebecca Judge
Columbia, Mo. (March 13, 2006) — Carol H. Williams, president, chief executive officer and chief creative officer of Carol H. Williams Advertising, will be awarded a Missouri Honor Medal for Distinguished Service in Journalism for her pioneering work and award-winning advertising on Wednesday, March 22. She also will deliver a major address on "The Growing Clout of Market Segmentation" during her campus visit.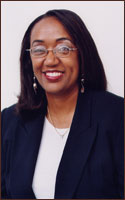 Williams will present her Master Class from 10-10:50 a.m. in Fisher Auditorium. A presentation of the Honor Medal will be made at a luncheon at the Reynolds Alumni Center on the University of Missouri campus. Williams' presentation on market segmentation will begin with a reception from 3-3:30 p.m. with the address to follow from 3:30-4:30 p.m. at the Black Culture Center.
The Missouri School of Journalism has awarded the Missouri Honor Medal for Distinguished Service in Journalism annually since 1930. More than 435 distinguished journalists, advertising and public relations practitioners, business people, institutions and media organizations have received this prestigious award.
"Carol Williams is not only a brilliantly successful advertising entrepreneur and creative director, but also an inspiration," says advertising chair, Margaret Duffy. "She is truly a pioneer, and we are delighted to recognize her achievements."
Williams founded Carol H. Williams Advertising in 1986 after recognizing the need to communicate successfully to African-American and urban markets with targeted strategic communications. The agency's current clients are top Fortune 500 firms and industry leading companies including General Motors, Coors Brewing Co./Coors Light, Procter & Gamble, Cingular Wireless, Washington Mutual, VISA, Starwood, Disney and McNeil Pharmaceuticals.
In Williams' more than 30 years of advertising experience, she has developed some of the most memorable brand-building campaigns in recent history including the Secret Antiperspirant campaign, "Strong enough for a man, but made for a woman"; the highly successful "Paper Knife" campaign for Pillsbury frosting; and the "Say Hello to Poppin' Fresh Dough" campaign for Pillsbury.
Among her numerous achievements, Williams' creative work for the California Department of Health Services significantly reduced smoking rates among African-Americans. Prior to forming her agency, Williams was senior vice-president, creative director at Foote, Cone & Belding in San Francisco. She was the first African-American female creative director and vice president of the Leo Burnett Co. in Chicago. Ms. Williams' community involvement includes working with the Congressional Black Caucus, the NAACP, the U.S. Dream Academy and the Rainbow/PUSH Coalition, among others.
Chenell Seaton, BJ '98, now a senior account manager at Carol H. Williams Advertising in Chicago, says she thinks Williams is deserving of the award because of all she has achieved in the span of her life.
"Ms. Williams has broken through racial barriers and battled sexism to reach the pinnacle of the advertising industry, while still managing to raise wonderful and successful children and cultivate a loving marriage. She is truly an inspiration," says Seaton.
Others receiving a 2005 Missouri Honor Medal are KHOU-TV's "The Defenders," Alejandro Junco de la Vega, publisher of El Norte in Mexico; Lisa Myers, senior investigative correspondent for NBC News; Paul Steiger, managing editor of The Wall Street Journal; and Angus McDougall, a former photojournalism sequence faculty member and photography innovator.
---
Rebecca Judge, of St. Louis, is a senior in the broadcast news sequence. She works in the sales department at KOMU, where she assists account executives with creating commercial spots and sales presentations for current and prospective clients. Judge plans to focus her knowledge and experience in radio, television and newspaper in a media convergence environment.
Updated: April 8, 2020
Related Stories
Expand All
Collapse All
---