NBC Correspondent Lisa Myers to Receive Missouri Honor Medal on May 1
By Lindsey Carpenter
Columbia, Mo. (April 24, 2006) — Lisa Myers, BJ '73, and the senior investigative correspondent for NBC News, will be awarded a Missouri Honor Medal for Distinguished Service in Journalism for her dedication and commitment to truth and high ideals, for producing investigative reports that improve society and elevate the public's trust in journalism, and for her selfless devotion and untiring energy on behalf of journalism and democracy.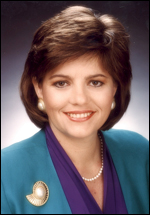 Myers will be on campus on Monday, May 1, to present her Master Class from 10-10:45 a.m. in Tucker Forum, and to receive her award at a luncheon from 11:45 a.m.-1:15 p.m. at the Upper Crust ballroom.
"She reports on the kind of issues we read about on page one of the New York Times and the Washington Post — issues that change administrations, policies and our voting decisions," said Kent Collins, chair of the Radio-Television Journalism sequence.
The Missouri School of Journalism has awarded the Missouri Honor Medal for Distinguished Service in Journalism annually since 1930. More than 435 distinguished journalists, advertising and public relations practitioners, business people, institutions and media organizations have received this prestigious award.
Myers is one of the most respected journalists in the country. Her groundbreaking reports on the war on terror, politics, Iraq and corporate scandals have triggered official investigations and influenced the political landscape.
Myers and her team have produced more than a hundred investigative stories on terrorism, politics and the billions in federal contracts flowing to Iraq. Myers made headlines in 2004 when, for the first time, she aired a top-secret CIA surveillance tape of Bin Laden shot prior to 9-11. That same year, she also broke an important story on Democratic presidential candidate Howard Dean, unearthing controversial statements Dean had made during years of appearances on an obscure Canadian television program. Myers also served as chief correspondent on the Enron story, explaining and unraveling the biggest bankruptcy in history and its implications for investors. The in-depth reports included an exclusive interview with Linda Lay, wife of Enron CEO Ken Lay.
Previously, she covered seven presidential campaigns and was a floor reporter for NBC at four Democratic and Republican conventions. While NBC's chief congressional correspondent, she became well known for insightful political analysis and hard-hitting investigative reports.
Myers is the recipient of numerous awards and honors. In 2005, she received a Gracie Allen Individual Achievement Award as an Outstanding Correspondent. In 2004, Myers and the NBC Investigative Unit won an Emmy Award and an Edward R. Murrow award for a series of critical reports on all the federal funds being spent to rebuild Iraq and their coverage of 9/11. Myers won a 2004 Clarion Award and, in 2003, she received one of journalism's most prestigious reporting prizes, the Joan Barone Award, for her exceptional reporting on the Enron scandal.
Others who received a 2005 Missouri Honor Medal are KHOU-TV's "The Defenders," Alejandro Junco de la Vega, publisher of El Norte in Mexico; Paul Steiger, managing editor of The Wall Street Journal; Angus McDougall, a former photojournalism sequence faculty member and photography innovator; and Carol H. Williams, president, chief executive officer and chief creative officer of Carol H. Williams Advertising.
---
Lindsey Carpenter, of Colleyville, Texas, is a senior broadcast major at the Missouri School of Journalism. She is a sports reporter for KOMU, and has previously interned at MTV in New York and FOX Sports Southwest in Dallas. Carpenter plans to pursue a career in sports and entertainment marketing.
Updated: April 28, 2020
Related Stories
Expand All
Collapse All
---