Missouri School of Journalism names two recipients of 2023 Missouri Honor Medal for Distinguished Service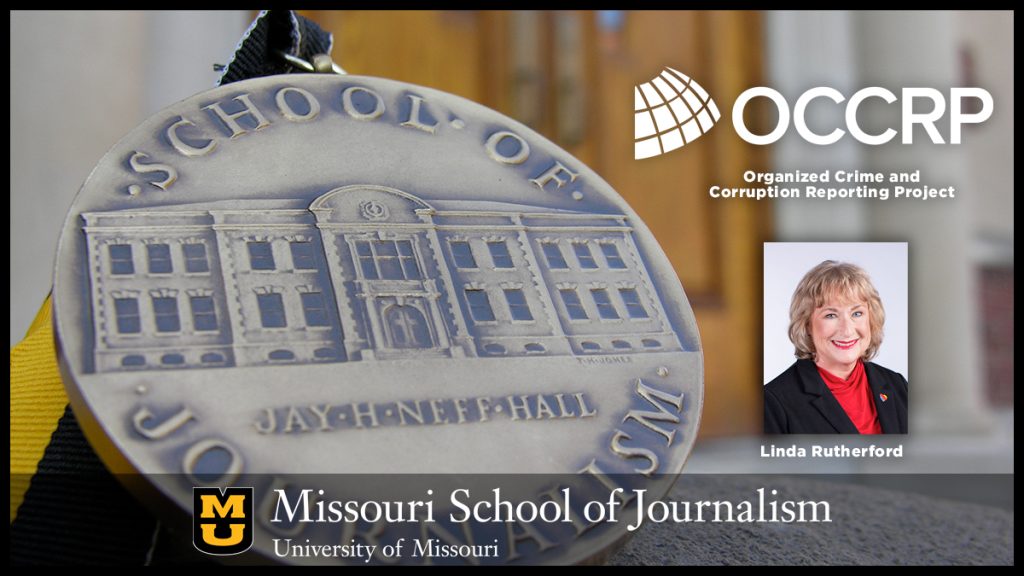 COLUMBIA, Mo. (May 18, 2023) — The Missouri School of Journalism today announced the 2023 recipients of the Missouri Honor Medal, which recognizes extraordinary service in journalism and strategic communication. The medalists are the Organized Crime and Corruption Reporting Project, an international network of investigative reporters, and Southwest Airlines Chief Administration and Communications Officer Linda Rutherford.
Rutherford and representatives from the OCCRP will receive their awards in a ceremony on Thursday, Sept. 14, beginning at 6 p.m. at The Atrium on Tenth, 22 N. Tenth St., in Columbia, Mo. Earlier that day, the medalists will deliver master classes to students based on their experiences and expertise in the industry.
"This year's medalists work in very different spheres, but their common devotion to service through impactful communication brings them together as titans of journalism and strategic communication," said David Kurpius, dean of the School of Journalism. "Their work is an inspiration to multiple generations, from their peers in the industry to students preparing to embark on their careers."
Faculty of the School select the winners of the Missouri Honor Medal, which has been awarded annually since 1930. Past winners — the likes of Christiane Amanpour, Sir Winston Churchill, Maria Hinojosa, Gloria Steinem and Walter Cronkite — represent a cross-section of excellence in the industry.
Meet the medalists
Organized Crime and Corruption Reporting Project

As a collaborative reporting network utilizing investigative journalists all over the world, the OCCRP has led or served as a key partner in landmark investigative reporting projects such as the Panama Papers, Suisse Secrets, the Pandora Papers, the Pegasus Project and OpenLux.
Founded in 2007 by Drew Sullivan and Paul Radu, the organization employs 60 investigative editors around the world and produces about 140 stories per year. According to Sullivan, publisher of OCCRP and former board member of the School of Journalism-based Investigative Reporters and Editors, half a dozen presidents around the world have been overthrown in connection with OCCRP stories.
Still, Sullivan is quick to clarify that the organization did not reach that level of influence due to a grand plan from its founders; the sprawling network of reporters and editors came about as a necessity in reporting on a worldwide network of organized crime.
"If we had tried to set up OCCRP the way it is now, we would have failed," Sullivan said. "…We had to leverage each others' skills as much as we could, and that created, naturally, an entity that could grow and handle these things. The job taught us what we needed to do, and the whole organization has grown organically almost since the beginning."
Sullivan, who attended the School of Journalism in the mid-1990s, emphasized that the nature of the organization's work means that nothing happens without collaboration — an ethic familiar to the School of Journalism, which brings together students and staff from each of its professional media outlets to coordinate coverage in the One Newsroom.
"Our model is to get the best investigative reporter from a particular region to collaborate with us," Sullivan said. "By getting those great reporters and agreeing on some standards, we're able to piece together these trans-national stories. It really is an ecosphere where reporters can come in, get all the resources they need, and use those resources to effectively report."
OCCRP was nominated for a Nobel Peace Prize in 2022 and has won a long list of awards domestically and internationally for its hard-hitting journalism.
Linda Rutherford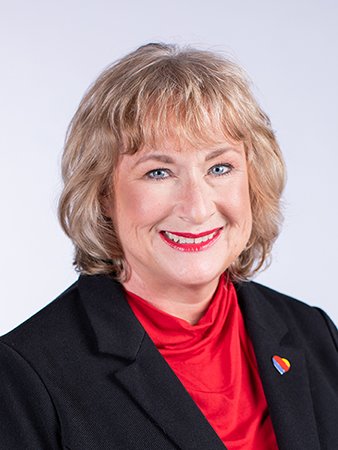 Linda Rutherford began her career in the journalism field, earning a bachelor's degree from Texas Tech University and working as a reporter until 1992, when she joined Southwest Airlines in an entry-level public relations position. Now, more than 3 decades later, she is the chief administration and communications officer at the airline, where she has been an instrumental part of a number of important moments in the organization's history, including the triumphant first flight after 9/11.
A defining moment came in the aftermath of a deadly accident in 2005 that claimed the life of a 6-year-old boy when Southwest Flight 1248 skidded off the runway in a snowstorm. Rather than adopt an apprehensive or defensive approach, Rutherford pushed for the airline to lead with compassion and support.
"I'd never worked with an organization that had been through a traumatic experience where we had loss of life," Rutherford said. "Dealing with that crisis helped me learn so much about myself and about how to guide an organization through something terrible like that, when a family lost a little boy."
A Chicago Tribune article published two days after the incident was one of several to specifically praise the airline's swift and empathetic response, calling it "a departure from reactions by other carriers involved in fatal accidents."
Rutherford has also continued to use the skills and passion she nurtured as a journalist in service of her public relations work, presiding over a digital news ecosystem that allows the airline to tell its own stories.
"We have a blog, we have social media properties, so we can be our own media content platform," she said. "We can put stories out on our own, and that's a game changer. …I don't have to wait for tomorrow's newspaper or this evening's news. I can create something and put it out immediately on my own media channels."
But Rutherford doesn't confine her energy to corporate storytelling or to the diversity, equity and inclusion initiatives she also oversees. Having been deeply influenced by women in leadership roles at Southwhest who preceded and mentored her, she returns the favor by teaching at universities all over the country and has dedicated her time to a number of charitable and service organizations, such as the Make-A-Wish Foundation.
In other words, her master class in September won't be the first time she has drawn from her knowledge and experience to educate a new generation.
"I meet regularly with students, and anybody who wants my time for a career chat, I make room for that," she said. "I probably get as much out of it as they do — I love making those connections, and I love talking through problems and helping people come up with creative, outside-the-box solutions."
Updated: May 18, 2023
Related Stories
Expand All
Collapse All
---