Anne Garrels, an NPR Senior Foreign Correspondent, to Accept Missouri Honor Medal and Host Master Class
Columbia, Mo. (Feb. 23, 2009) — Anne Garrels, a senior foreign correspondent for NPR, will visit the Missouri School of Journalism on Thursday, Feb. 26, to teach a master class and accept the Missouri Honor Medal for Distinguished Service in Journalism, which the School awarded Garrels in 2004. The medal, first given in 1930, is one of journalism's most prestigious awards.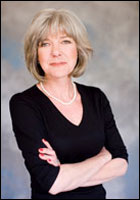 Garrels' master class, "Asking Directions, When You Don't Know Where You Are Going" will be streamed live from 11 to 11:50 a.m., as she speaks to students in the Fred W. Smith Forum at the Reynolds Journalism Institute (RJI). Her talk also will be featured on the plasma screens inside RJI.
Garrels will receive her honor medal during a journalism faculty luncheon at the School. Her citation reads "in recognition of her selfless courage on behalf of her listeners, her incisive coverage of war and other major world events, her unflinching commitment to serve the public and safeguard the role of journalism in democratic societies."
Garrels will host an informal question-and-answer session from 9:30 to 10:30 a.m. in Keller Auditorium in the Geology building.
Garrels was one of 16 U.S. journalists to remain in Baghdad during the initial phase of the war, earning her international recognition in 2003. As U.S.-led forces advanced on Baghdad, Garrels remained to share the stories of the local scene on the streets and interview those she encountered. Garrels published a memoir in 2003 titled "Naked in Baghdad," which chronicles her experiences there. Garrels' coverage in Iraq did not permit her to personally accept the Missouri Honor Medal in 2004.
After arriving in a Saddam Hussein-governed Iraq in 2002, Garrels led NPR's coverage there until 2008. She traveled the country working independently and as an embedded journalist with U.S. forces, documenting the sectarian violence.
Since Sept. 11, Garrels also has reported from Afghanistan, Pakistan and the Middle East. Before covering the Middle East, Garrels covered the former Soviet Union earning her an Alfred I. duPont-Columbia University Award for her coverage of topics ranging from social and economic challenges to military and cultural developments.
Garrels' sound reporting is most notable for the human face she puts on conflict. With her combined experience in the field and her understanding of the policy debates in Washington, D.C., Garrels has won numerous awards, including the George Polk Award, the 2004 Corporation for Public Broadcasting's Edward R. Murrow Award and the Courage in Journalism Award from the International Women's Media Foundation.
Garrels most recently has focused her attention on Russia, producing stories on the changes taking place in the industrial city of Chelyabinsk. Her reports can be heard on NPR's All Things Considered, Morning Edition, Weekend Edition Saturday, Weekend Edition Sunday and Day to Day.
Updated: April 30, 2020
Related Stories
Expand All
Collapse All
---