KOMU-TV, KBIA-FM Win 15 Awards for Broadcasting Excellence
The Annual Missouri Broadcasters Association Contest Recognizes Quality and Achievement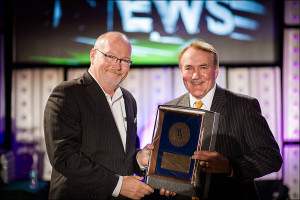 Columbia, Mo. (June 9, 2015) — KOMU-TV and KBIA-FM were honored with 15 awards from the Missouri Broadcasters Association at the group's annual awards ceremony at the Lake of the Ozarks June 6.
Both stations provide hands-on, real-media experiences for Missouri School of Journalism students. KOMU, mid-Missouri's NBC affiliate, is the only university-owned commercial television station in the U.S. that uses its newsroom as a learning lab for students. KBIA has been ranked as one of the top 10 NPR affiliates for more than 25 years.
MBA encourages the highest standards in broadcasting by recognizing samples of excellence and achievement. More than 700 entries in 20 different categories were considered for the awards.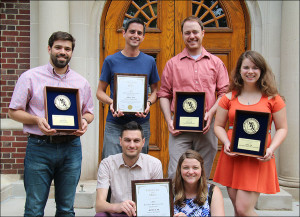 KOMU received 10 of the awards, including six first-place honors, in the following categories:
First Place, Best Weathercast, for former KOMU-TV meteorologist Rosie Newberry.
First Place, Documentary/Public Affairs, for "No 1 Left Behind," a special one-hour documentary that chronicled the struggles of homeless veterans in Mid-Missouri.
First Place, Feature Reporting, for World Series coverage.
First Place, Promotion, for "KOMU 8 News Promise."
First Place, Special Programs, for "No 1 Left Behind."
First Place, Website, for www.komu.com.
Certificate of Merit, Complete Newscast.
Certificate of Merit, Documentary/Public Affairs, for "Town Square – Bullying."
Certificate of Merit, Feature Reporting, for "Deaf Church" by KOMU News anchor Brittany Pieper.
Certificate of Merit, Sports Reporting, for "Special Season" by radio-television senior Mihir Bhagat.
KBIA earned five awards, including three first-place honors.
KOMU 8 is an auxiliary enterprise of the University of Missouri and is expected to generate all revenues for station operations. Its operations and investments in broadcast technology are funded entirely by advertising and retransmission revenues. The station receives no funding from the university or state.
Updated: September 8, 2020
Related Stories
Expand All
Collapse All
---