Radio Television Digital News Association Awards Scholarships to 2 Missouri Students
Jenna Middaugh and Zack Newman Will Each Receive $1,000
Washington (Dec. 16, 2015) — The Radio Television Digital News Association has awarded scholarships to two Missouri School of Journalism students. Both report for KOMU-TV, the only university-owned commercial TV station in the U.S. that uses its newsroom as a working lab for students.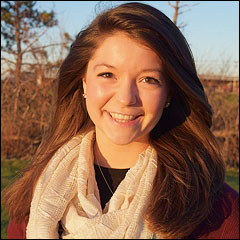 Radio-TV journalism senior Jenna Middaugh and convergence journalism junior Zack Newman both worked with Stacey Woelfel while he was news director at KOMU. Woelfel, an associate professor, is a former chairman of the RTDNA and now serves as director of the Jonathan B. Murray Center for Documentary Journalism.
Middaugh received one of two $1,000 Presidents Scholarships given in honor of former RTDNA presidents Theodore Koop, Bruce Dennis, James McCulla, John Salisbury, Bruce Palmer, Dick Cheverton, Jim Byron, Ben Chatfield and John Hogan.
Middaugh is focusing her studies on reporting and anchoring. She will graduate in May 2016 after finishing college in three years. Middaugh became a familiar face at KOMU in her freshman year. She has produced full newscasts and as a multimedia journalist, has developed story ideas, interviewed sources, shot B-roll and edited packages before presenting them for the 5 p.m. and 6 p.m. news and has served in a number of reporting and producing roles. Middaugh has also reported for KBIA-FM, mid-Missouri's NPR-affiliate and interned at KMBC-TV in her hometown of Kansas City.
"Jenna hit the newsroom on her very first day ready to do whatever it took to get the newscast on the air," said Woelfel. "It's exciting to see RTDNF provide the means for her to finish her education and lead a new generation of TV journalists."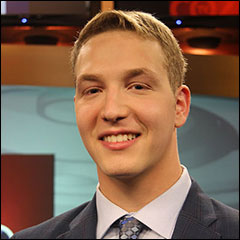 Newman, a junior in convergence journalism with an emphasis in TV and radio, received the $1,000 Mike Reynolds Scholarship. The award's namesake was assignment editor and later managing editor at KCCI-TV in Des Moines, Iowa. He died in 1988 of a brain tumor at age 45. Trustees of the fund to honor Newman's memory require applicants for this award to be enrolled in journalism school and have good writing ability, excellent grades, a dedication to the news business, strong interest in pursuing a career in electronic journalism and a demonstrated need for financial assistance.
Newman considers himself to be a multimedia storyteller and loves learning new mediums to produce content. He began working at KOMU his freshman year as a digital producer and volunteered to report throughout the next summer and during the fall Friday nights coverage on high school football games. He is also a member of the Target 8 Investigative Unit and completed two semester-long investigations. He has used traditional equipment and an iPad Mini to tell stories.
The Ellicott City, Maryland, native will be a part of a new 3D and virtual reality team under the direction of Professor Clyde Bentley and works with StoryUp Studios. Newman has worked at ESPNU Campus Connection and at Fox News in New York, continuing to work as a campus associate for the network. He is an editor for a Copy That, a national newsletter, and helped the organization with its coverage of the Concerned Student 1950 protests. Newman is also involved in philanthropies to raise awareness of cancer and the funding needed to fight the disease.
"I have met few students as focused on the what's ahead as Zack." Woelfel said. "He's the kind of analytical thinker we need figuring out the future of our profession."
Updated: September 14, 2020
Related Stories
Expand All
Collapse All
---