KOMU Journalists Win National Student Television Awards for News Stories
The National Academy of Television Arts & Sciences Mid-America Chapter Competition Recognizes Outstanding Work
By Rebecca Dell
Columbia, Mo. (May 8, 2015) — Seniors Jessica Mensch and Mihir Bhagat have received the Student Television Award from the National Academy of Television Arts & Sciences Mid-America Chapter for stories that aired on KOMU-TV.
The competition recognizes outstanding student work aired on television. The award-winning stories produced by the Missouri School of Journalism students aired on KOMU-TV, mid-Missouri's NBC affiliate. It is the only university-owned commercial television station in the United States that uses its newsroom as a learning laboratory for students.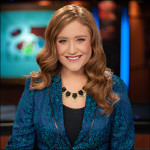 Mensch's story, "Spice Makers Use New Compounds to Make Product Legal," was the winning entry in the News: General Assignment – Serious News category.
In her investigation, Mensch found that shops in mid-Missouri are selling new versions of synthetic marijuana-like drugs, thanks to a technical loophole in the law banning synthetic drugs. The drugs, marketed as potpourri or incense, concern health professionals because of dangerous side effects.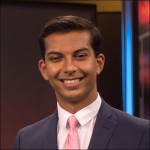 "This story was one of the most challenging I have covered, because drug users are often very private for fear of getting in trouble with the law," Mensch said. "I had to earn the trust of these sources in order to tell the story to the best of my ability. I also went undercover into shops, where I was chased out by a storeowner after he spotted my hidden camera outside. My final challenge was relaying scientific information about a drug in a manner that would be easy to understand in fewer than five minutes."
Jamie Greber, assistant professor and KOMU managing editor, worked with Mensch on the investigative piece.
Bhagat's story "Waiting Game" was the winning entry in the News: General Assignment – Light News category. Sophomore Clayton Conness was cited for the work he did as assistant videographer on the story. The feature followed former University of Missouri cornerback E.J. Gaines as he and his family waited for the call that said he'd been drafted into the NFL.
"I'm proud to represent Mizzou and win my second NATAS award," Bhagat said. "This story challenged me to go beyond covering the event. I realized this wasn't just about a player being drafted. It was about a dad who wanted his son to live his dream because he never got a chance to."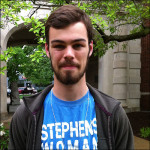 KOMU anchor Jim Riek worked with Bhagat on the winning piece.
NATAS also recognized Bhagat for his story "Battle's Special Season," which garnered an honorable mention in the News: General Assignment – Light News category.
For that feature, Bhagat introduced viewers to Eli White, a Battle High School student who loves football and has special needs. In the 2014 season, White went to every Battle football practice, amped up the team, and ultimately watched Battle win the state championship in just its second year as a program.
NATAS is a professional service organization dedicated to advancing the arts and sciences of television and related media, as well as encouraging creative leadership within the television industry. The student awards are meant to spur students on to further excellence and to draw attention to top student achievement.
Winning high school and colleges will receive Student Pillars at the 39th EMMY Gala on Oct. 3 in St. Louis.
Updated: September 8, 2020
Related Stories
Expand All
Collapse All
---