Radio-Television Professors Earn Emmy for Tsunami Coverage
Columbia, Mo. (Nov. 3, 2006) — An in-depth, on-the-scene news report of life and recovery after the 2004 tsunami that devastated Sri Lanka and Indonesia has won yet another prestigious award.
The Mid-America Chapter of the National Academy of Television Arts and Sciences recently awarded an Emmy for best specialty program outside a newscast to radio-television journalism faculty members, Sarah Hill and Gary Grigsby. Both teach at KOMU-TV, the only university-owned commercial television station in the United States that uses its newsroom as a working lab for students. Hill, BJ '93, is an anchor and reporter; Grigsby, MA '81, is a photographer. KOMU competed against stations in markets from Missouri, Illinois, Arkansas, Iowa, Kentucky, Louisiana and Kansas for the award.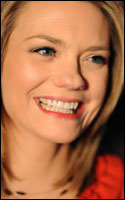 The story has earned one of journalism's highest awards, a prestigious regional Edward R. Murrow Award for "Best News Documentary" from the Radio and Television News Directors Association. It also won a first place excellence award in the 2006 Missouri Broadcasters Association's annual competition.
"The awards are a generous recognition of the effort Sarah and Gary put into telling a very important story," said Stacey Woelfel, KOMU news director. "They were able to link this horrible tragedy overseas with the outreach of the University to help people wherever they are. We were lucky to get to be a part of covering the important mission."
For 10 days, Hill and Grigsby followed a team of counselors and psychologists from the MU International Center for Psychosocial Trauma as they worked in the regions most affected by the deadly wave. Scott Schmidt, KOMU graphic artist, created the graphics for the program.
Students benefit from having professional journalists as teachers and mentors, said Kent Collins, associate professor and chair of radio-television journalism.
"That's the Missouri Method. Sarah teaches writing and producing. Gary teaches writing and storytelling. When together they produce stories like their Emmy award-winning pieces on the tsunami recovery in South Asia, the students pay extra-close attention."
Telling powerful stories, such as life in refugee camps and villages destroyed by the tsunami, is an important part of the journalist's mission, Hill said. Even two years after the tsunami, she said, some children in South Asia still run scared at the sound of a flushing toilet.
"We tip our hat to the MU International Center for Psychosocial Trauma," Hill said. "Its team members not only kept us safe in an area of civil war and natural disaster, but also showed us the important work they're doing in areas around the globe. We thank the academy for this prestigious award and continue to keep the people of South Asia in our thoughts."
Updated: April 15, 2020
Related Stories
Expand All
Collapse All
---