Jamie Grey Nominated for Emmy in the Crime/Single Story/Series Category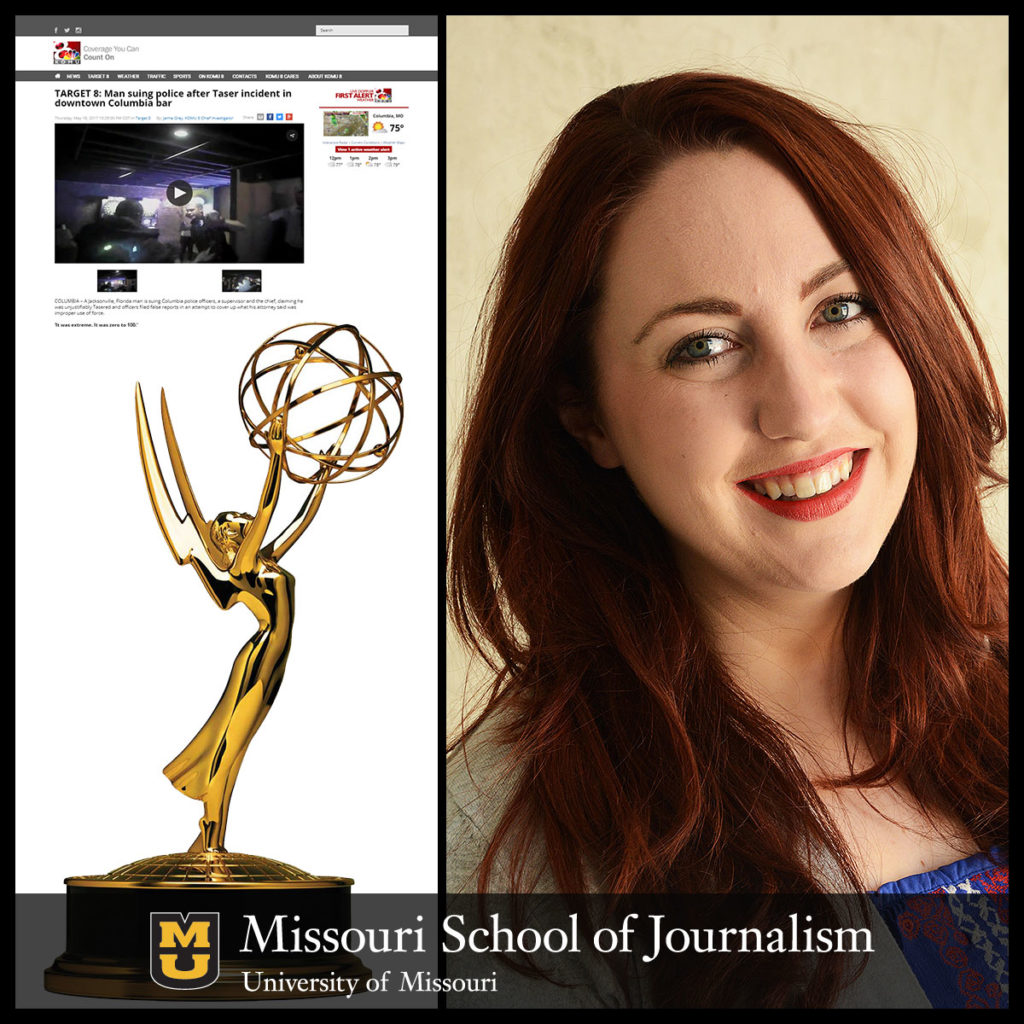 For her Emmy-nominated story for KOMU, former assistant professor Jamie Grey utilized multiple body camera videos and video depositions as well as shot portions of the story using just her iPad.
Nomination Places J-School Instructor's Work Head-to-Head with Major News Outlets in St. Louis, Kansas City
Columbia, Mo. (Aug. 20, 2018) — Former assistant professor and managing editor at KOMU-TV Jamie Grey has been nominated for an Emmy award. Her nominated entry, "A Punch and a Police Report," first aired on KOMU, the University of Missouri-owned NBC affiliate that doubles as a learning laboratory for Mizzou's radio-TV journalism students.
Grey, BJ '07, ME '17, had already won an Emmy award for crime reporting and has earned multiple regional Edward R. Murrow awards, including several for investigative reporting. She was named Idaho's broadcast reporter of the year two years in a row.
In her most-recently-nominated piece, Grey utilized multiple body camera videos and video depositions to present evidence that conflicts with an official police report documenting an altercation in a local bar with police. Initially entering the bar to check IDs, officers ended up using a Taser on a young man prior to his arrest.
Grey's work on the nominated project was unique in at least two aspects; her primary source for the story was an Uber driver who was providing for her transporation needs while she was away at a conference in Florida and – effectively modeling the Missouri Method approach of "working with whatever you have on hand" – she shot portions of the story using just her iPad.
"We're so proud of Jamie's work at KOMU. She's living proof of the Missouri Method, finding stories everywhere she goes," said Randy Reeves, associate professor and news director at KOMU. "This story is just one example of the work she did for KOMU and her student journalists. She is a tremendous mentor and role model for a generation of investigative reporters."
The 42nd Annual Mid-America Emmy Awards dinner and ceremony will be held Sept. 22, 2018, at the Kansas City Convention Center.
Updated: November 4, 2020
Related Stories
Expand All
Collapse All
---