Radio-Television Journalism Students, Faculty, Staff Recognized with Regional Emmy Awards, Nominations, Scholarships
Columbia, Mo. (Oct. 31, 2008) — The Mid-America Chapter of the National Academy of Television Arts and Sciences recognized Missouri School of Journalism radio-television journalism students, faculty and staff at the 32nd Emmy Awards gala on Oct. 4 in St. Louis.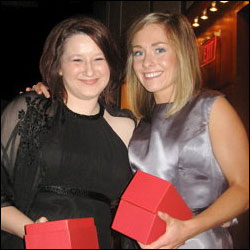 Students Ashley Reynolds and Charlotte Bellis won Emmy Awards in the best student entry category for stories they produced for KOMU-TV. The station is the only University-owned commercial network affiliate that uses its newsroom as a lab for students.
Reynolds earned her Emmy for the series she produced called "Combating Autism From Within." The 14-part series focused on the underlying causes of autism and potential treatments for the condition. Reynolds and a team of student producers traveled to four states and visited 10 cities over a six-month period of time to research and write the series. Reynolds has received feedback on the autism series from people all over the world.
Bellis' Emmy was for "Prescription for Trouble," a story about students in the Ashland, Mo., school district who had overdosed on prescription medications throughout 2006 and 2007. Bellis' investigation served as the direct catalyst for the Ashland school district to introduce mandatory drug testing for all of its students.
"Students with little or no prior experience come here and do news stories that are valuable to the community and that are winners in professional-level competition. Students at Missouri do it every day!" said Kent Collins, chair of the radio-television journalism faculty.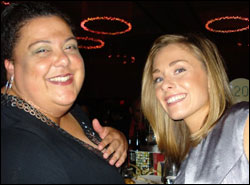 Professors Holly Edgell and Stacey Woelfel and associate producer Nathan Hurst were nominated for an Emmy in the best newscast category for the KOMU 10 p.m. newscast. Station photographer and adjunct faculty member Scott Schaefer was nominated in the best photographer category.
In addition, Missouri Journalism students won three out of four Walter Cronkite Scholarships offered by the Mid-America Chapter of the NATAS. The winners were senior Dhomonique Ricks and juniors Kevin Lewis and Brooke Wilson. The merit-based scholarships are intended to assist outstanding college students planning a career in television.
The 2008 Emmy Awards and nominations are among the many national, regional, state and local awards and recognitions that have been given to radio-television journalism students, faculty and by KOMU and KBIA-FM, including Edward R. Murrow awards and recognitions from the Missouri Broadcasters Association, the Society of Professional Journalists and the Missouri Broadcast Educators Association.
Updated: April 30, 2020
Related Stories
Expand All
Collapse All
---