Professor Emeritus Rod Gelatt, Senior Jonah Javad and KOMU-TV Recognized at Mid-America Emmy Award Ceremony
Columbia, Mo. (Nov. 8, 2011) — Professor Emeritus Rod Gelatt was inducted into the prestigious Gold Circle during the 35th annual Mid-America Emmy awards ceremony held recently in St. Louis. He was one of three veteran journalists with 50 years or more in the TV industry to be honored by the National Academy of Television Arts and Sciences.
Gelatt has influenced many of the world's top radio-television journalists during his 63 years of distinguished service. He started his career as a reporter, news editor and newscaster at WHO-AM and TV in Des Moines, Iowa, before switching to teaching at Washington and Lee in 1957. He joined the Missouri School of Journalism faculty in 1963 and was a director of news or public affairs for 22 years – first for the School's NBC affiliate, KOMU-TV, and later for its public radio station, KBIA-FM."Rod Gelatt has taught young journalists how to be loyal to the citizens and to serve their need for information," said Kent Collins, chair of the radio-television faculty. "Even today, Rod preaches good watchdog techniques make for good journalism."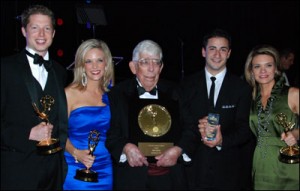 From 1980 to 1993 Gelatt produced and moderated KOMU's "Missouri Forum" public affairs program, and from 1986 to 1992 he chaired the Broadcast News Department. During those years he also coordinated the annual judging for the Radio-Television News Directors Association's Edward R. Murrow Awards, which recognizes outstanding achievements in electronic journalism.
Jonah Javad, a senior majoring in radio-television journalism, received the College Student Award for his entry "Striking Chords." His winning story highlighted the wrestling career of Hickman High School student J'Den Cox, who was 34-0 one year after winning the Missouri state championship as a freshman. The report focused on the constant rhythm – one that has people's attention – that Cox said he needed to maintain to prepare for the 2011 state championship.Gelatt served as the School's liaison to the committee created by the Missouri Supreme Court to draft guidelines for bringing cameras and microphones into the state's courtrooms. In 1998 he helped launch the Missouri London Program, the School's most popular study-abroad experience. From 1995 to 2008 Gelatt hosted "Views of the News," a weekly news media critique program on KBIA. He received the Chancellor's Faculty Retiree of the Year Award in 2008 and served as president of the MU Retirees Association from 2006 to 2007. Gelatt received the Mizzou Alumni Association Faculty-Alumni Award in 1989 and the Missouri Honor Medal for Distinguished Service in Journalism in 2009.
KOMU-TV was honored with four Emmy awards during the evening's activities. The station is the only university-owned commercial television station that uses its newsroom as a working lab for students.
KOMU 8 News Today Anchor Megan Murphy, BJ '04, and photojournalist Scott Schaefer, BJ '04, received an Emmy in the historical/cultural category for their feature on a local man's quest to renovate the only flying World War II-era Seafire 15 airplane. It was Murphy's first-ever Emmy award.
Schaefer received three additional Emmy awards on Saturday night in the categories of news photography, video editing and community service.
KOMU 8 News Anchor Sarah Hill, BJ '93, and General Manager Marty Siddall also were part of the team that won the Community Service Emmy for their work on Central Missouri Honor Flight. Central Missouri Honor Flight is a local hub of the national Honor Flight organization that flies aging and terminally ill veterans to see their memorials in Washington, D.C., at no cost to them. KOMU 8 staff co-founded Central Missouri Honor Flight in October 2009.
Hill and Schaefer serve as adjunct professors for the School.
Updated: August 26, 2020
Related Stories
Expand All
Collapse All
---