Professor Emeritus Rod Gelatt Honored With Endowment on 90th Birthday
Former Students Recognize His Legacy of High-Quality Storytelling and Reporting
By Maggie Teson
Columbia, Mo. (Sept. 8, 2016) — During his more than 45 years of service at the Missouri School of Journalism, Professor Emeritus Rod Gelatt built a legacy of high-quality storytelling and reporting in radio and television news. In honor of his 90th birthday Sept. 20, his former students are creating an endowment in his name.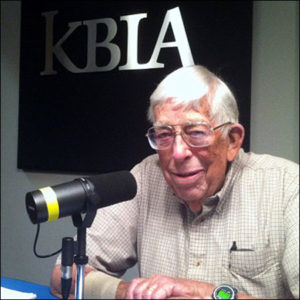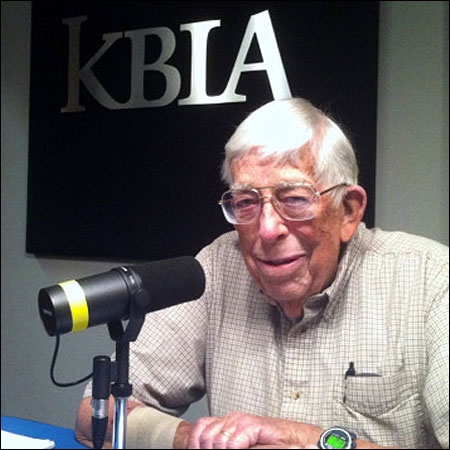 The Rod Gelatt KBIA Faculty Enhancement Fund will help support KBIA-FM – the School's public radio station – and the faculty who mentor students and operate the station's newsroom. The endowment also will serve as a tribute to Gelatt.
"I've always wanted to let Rod know how much his students appreciate him and everything he taught us," said Kent Martin, BJ '76, one of Gelatt's former students who helped create the endowment. "Rod isn't one to toot his own horn, so we wanted to toot it for him. Plus, we wanted to honor Rod in a way that would benefit KBIA for generations to come."
Gelatt began his career at WHO-AM in Des Moines, Iowa. In 1953 he ushered in the debut of television news when the station expanded to provide radio and television newscasts. Gelatt joined the University of Missouri faculty in 1963. He served as news director for KOMU-TV – the only university-owned commercial TV station in the U.S. that uses its newsroom as a working lab for students – and later for KBIA.
Before Gelatt's arrival, students at KOMU served only as interns. Under his leadership, students became reporters, writers, producers and photographers for all of the station's newscasts.
"Rod integrated students into the major work of the newscasts," said Kent Collins, chair of the Radio-Television Journalism faculty. "He applied the Missouri Method to the journalism of KOMU, much like the Columbia Missourian did with students years before. Under Rod, students were the front line reporters and film photographers chasing after the news stories."
In addition to encouraging students to assume primary roles at KOMU, Gelatt guided the station through major technical changes, including the switch from black and white to color broadcasting. Gelatt also produced and moderated KOMU's Missouri Forum, a talk show that discussed Missouri's public affairs.
When he anchored the 6 p.m. and 10 p.m. newscasts at KOMU, Gelatt delivered fair and thorough coverage of local news. As the host of KBIA's Views of the News, a media-critique program he created in 1994, he captivated thousands of mid-Missourians with his wit and insight.
"Rod liked great writing, good grammar and accuracy, and he never played loose with the facts," Collins said. "He's very serious about that kind of stuff, which was good for the Journalism School at that time, and it's good for the Journalism School at this time."
During his career Gelatt also coordinated the judging for the annual Radio-Television News Directors Association's Edward R. Murrow Awards, which recognizes achievements in electronic journalism. He helped draft guidelines for bringing microphones and cameras into Missouri courtrooms and in 1998, initiated the Missouri London Program, the Journalism School's most popular study abroad experience.
Gelatt received several awards recognizing his accomplishments. He was inducted into the Gold Circle during the 35th annual Mid-America Emmy Awards in 2011. He was also one of three journalists with 50 or more years of experience in the TV industry to be honored by the National Academy of Television Arts and Sciences.
After retiring in 1992, Gelatt served as president of the MU Retirees Association from 2006 to 2007. He has received numerous recognitions, including the Mizzou Alumni Association's Faculty-Alumni Award in 1987, the Chancellor's Faculty Retiree of the Year Award in 2008 and the Missouri Honor Medal for Distinguished Service in Journalism in 2009.
Gelatt's endowment will not only honor his accomplishments, but also will promote the values he instilled in his students.
"Time and again, if you see or hear a story produced by one of Rod's former students, you'll notice the unmistakable traits they learned at MU," Martin said. "Under Rod's guidance, we learned devotion to accuracy, the attention to detail and the extra care in making a story stand out, not with purple prose or sensational language, but with straightforward, honest reporting."
Those who would like to contribute to the endowment can mail donations to the Missouri School of Journalism Office of Advancement or make a donation online. Pledges can be paid over a five-year period.
Updated: October 1, 2020
Related Stories
Expand All
Collapse All
---