KOMU Earns Three Emmy Awards; Missouri Journalism Student-Producer Among Journalists Honored
Columbia, Mo. (Nov. 15, 2007) — At a school where students learn by doing, education often has its rewards.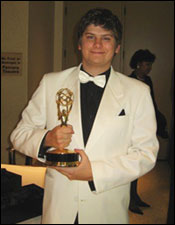 KOMU, mid-Missouri's NBC station and the only University-owned commercial network affiliate in the United States, claimed three Emmy Awards from the Mid-America Chapter of the National Academy of Television Arts and Sciences on Oct. 20 in St. Louis. Among those honored was Thad Kemlage, a Missouri Journalism senior and student producer at KOMU.
The station, which also doubles as a working laboratory for students at the Missouri School of Journalism, received two Emmys for Mercy in Motion, a special series by anchor Sarah Hill and videographer Scott Schaefer, both adjunct faculty members at the School. The series followed a group of volunteers who donated time and supplies in Vietnam. Hill and Schaefer traveled to Vietnam for the series and turned their footage into a half-hour special. These were Hill's third and fourth Emmys and Schaefer's first two Emmys.
The highlight of the awards gala was the Emmy for the best evening newscast in a small market, which Kemlage shared with Holly Edgell, KOMU executive producer and assistant professor of radio-television journalism at the School. The Academy honored Kemlage and Edgell for their coverage last year of a possible terror threat, later disproved, on the campus of the University of Missouri-Rolla.
In all, KOMU was nominated for six Emmys, the most since the station's first broadcast in December 1953.
"It's always an honor to be nominated for such a prestigious award," said Marty Siddall, KOMU general manager. "To be awarded three Emmys is a true testament to our staff's hard work and dedication. The awards help demonstrate KOMU's on-going mission to serve our viewers with integrity and excellence."
The awards were also a reminder of KOMU's dual goals of providing high-quality news and entertainment to mid-Missouri and educating the next generation of broadcast professionals, said Stacy Woelfel, KOMU news director and radio-television journalism instructor.
"Sarah and Holly not only teach their students how to put together and deliver a powerful story and newscast, they show by example," Woelfel said. "Their wins and the wins of Scott and student producer Thad Kemlage are only a couple of examples of how their work exemplifies the quality that is the cornerstone of KOMU News."
In addition to the 2007 Emmys, KOMU and its professional and student journalists have received numerous regional and national honors for reporting, including national and regional Edward R. Murrow Awards and recognitions from the Missouri Broadcasters Association, the Society of Professional Journalists and the Missouri Broadcast Educators Association.
Updated: August 26, 2020
Related Stories
Expand All
Collapse All
---