Two Journalism Professors Win Regional Edward R. Murrow Award
Columbia, Mo. (April 5, 2006) — The work of two Missouri School of Journalism professors has earned KOMU one of broadcast journalism's highest awards.
KOMU is the only University-owned network affiliate in the United States that uses its newsroom as a working lab for broadcast news students.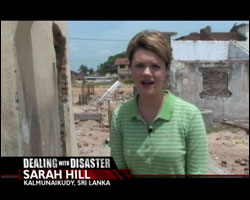 Sarah Hill, KOMU anchor, reporter and adjunct professor, and Gary Grigsby, assistant professor and KOMU photographer, won a regional Edward R. Murrow Award in the documentary category for "Dealing with Disaster: Sarah's Stories from South Asia." The competition is sponsored by the Radio-Television News Directors Association (RTNDA).
The story, which aired in November 2005, documented a team of University of Missouri and other doctors in Sri Lanka and Indonesia trying to help survivors cope with the psychological trauma following the December 2004 tsunami in South Asia. The MU doctors were all from the University's International Center for Psychosocial Trauma.
"The station has the commitment to go where it takes to tell the important local stories, even on the other side of the globe," said Stacey Woelfel, KOMU news director. "When we heard a local team would go to aid the tsunami victims in Sri Lanka and Indonesia, it was easy to make the decision to go along and cover the work."
"Sarah's Stories" is a feature series reported by Hill, who has won three previous regional Murrow Awards. KOMU has been recognized with numerous other awards for its news excellence, including an Emmy for Overall News Excellence from the Mid-America Chapter of the National Academy of Television Arts and Sciences in 2005 and a Mid-America Emmy for Best Writing for "Sarah's Stories" in 2004.
RTNDA has been honoring outstanding achievements in electronic journalism with the Edward R. Murrow Awards since 1971. As the best documentary from Missouri, Iowa, Nebraska and Kansas stations in the "Small Market" category, the entry will move on to national competition against twelve other regions. National finalists will be announced in mid-June.
Updated: April 9, 2020
Related Stories
Expand All
Collapse All
---