Two Missouri Journalism Students Receive Radio Television Digital News Association Scholarships
Columbia, Mo. (Jan. 23, 2012) — Two Missouri School of Journalism radio-television journalism seniors have been awarded scholarships from the Radio Television Digital News Association (RTDNA).
Jonah Javad received the Lou and Carole Prato Sports Reporting Scholarship, and Jonathan Ketz received the Mike Reynolds Journalism Scholarship. The University of Missouri was the only school to have multiple scholarship recipients.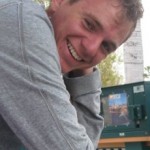 Both Javad and Ketz report for KOMU-TV, mid-Missouri's NBC station. It is the only university-owned commercial network affiliate in the United States that uses its newsroom as a working laboratory for students.
"I was very excited to hear that two of our students were winning these national scholarships," said Stacey Woelfel, associate professor and KOMU news director. "As a former leader of RTDNA, I know just how competitive it is to get these scholarships. The fact that two of our students could win over the judges helps show just how good the students' work is."
The Lou Prato scholarship is for students planning on a career in radio or television sports journalism. Prato served as treasurer and secretary of RTDNA's Board of Trustees from 1981 to 2006. Applicants were judged on writing skills.
The judges applauded how Javad upholds the long-standing philosophies of journalism.
"Javad reports with immediacy, accuracy and the lost art of creativity," the judges said. "Whether covering the Joplin tornado or high school football, he finds stories that impact and inspire the community. The future may be uncertain, but Javad embraces it with an open mind and an open mic."
Ketz's scholarship honors Mike Reynolds, a former assignment and managing editor at KCCI-TV in Des Moines, Iowa. Applicants must be enrolled in a journalism school, and are judged on their writing ability, excellent grades, a dedication to the news business and strong interest in pursuing a career in electronic journalism.
The judges recognized Ketz' qualifications for the job, noting he is embracing a multimedia approach at KOMU.
"Ketz enjoys his time at KOMU and is working toward becoming a reporter and anchor in the near future," the judges said.
Students from around the country enter their portfolios into a competitive pool of applicants for the 11 scholarships offered by RTDNA. This year students from 10 different schools received the 11 scholarships.
Updated: June 4, 2020
Related Stories
Expand All
Collapse All
---