KBIA-FM Earns 3 Regional Murrow Awards for Excellence in Electronic Journalism
Station Received Top Honors in the Continuing Coverage, Feature Reporting and Website Categories
Washington (April 24, 2014) — The Radio Television Digital News Association (RTDNA) has recognized KBIA-FM in its 2014 regional winners of the Edward R. Murrow Awards. The awards recognize the best electronic journalism produced by radio, television and online news organizations around the world.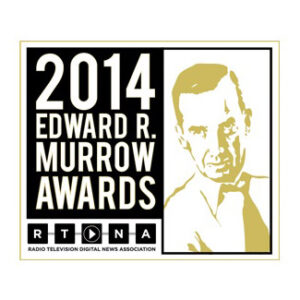 KBIA won three awards in the small market radio category: Continuing Coverage, Feature Reporting and Website. KBIA is mid Missouri's NPR-member affiliate and reaches more than 40,000 listeners in a 70-mile listening area. The station serves as one of the School's hands-on, real-media news outlets. Students produce stories with audio, video and text for the website while also producing traditional radio newscasts.
News Director Janet Saidi praised the team effort from collaborators at the School of Journalism, RJI and Harvest Public Media who work together to create quality broadcasts.
"Our entire team at KBIA works hard to create a news culture that reflects the information needs of our Missouri communities," she said. "So, it's really exciting to have these efforts rewarded."
RTDNA received more than 4,000 entries during the 2014 awards season, surpassing 2013 by more than 500 entries and setting an all-time record for entries in what proved to be one of the most competitive Edward R. Murrow Awards seasons in RTDNA history. A total of 661 regional Edward R. Murrow Awards in 14 categories, including Overall Excellence, Breaking News, Investigative Reporting and Website were awarded.
A story by Harvest Public Media reporter Abbie Fentress Swanson, "Scientists Check Corn Belt Waters for Effects of Ag Runoff," won in the Continuing Coverage category. Harvest Public Media is a journalism network producing reporting on issues of food, field and agriculture.
In the Feature Writing category, Lukas Udstuen earned top honors for "Rural Mo. Town Now a 'Ghost of a Past Settlement.'" Udstuen, BJ '13, produced the story as part of his convergence journalism studies at the Missouri School of Journalism. His winning entry featured the small town of Goss, Mo. Population: 0. The story looks into how a town on the map can have zero residents and what that says about the larger cultural demographic shifts and changes of landscape in rural Missouri. KBIA producer Kristofor Husted, members of the convergence journalism faculty and the KBIA news team contributed to the piece.
KBIA won for its website, KBIA-FM.
Regional winners automatically advance to the national Edward R. Murrow Awards competition, which will be judged in May. National awards, including those for network news organizations, will be presented at the New York Marriott Marquis in New York City on Oct. 6.
A complete list of the 2014 Regional Edward R. Murrow Awards winners can be found at RTDNA.org.
Updated: July 24, 2020
Related Stories
Expand All
Collapse All
---