KBIA-FM Named a Finalist for Online News Association's General Excellence Award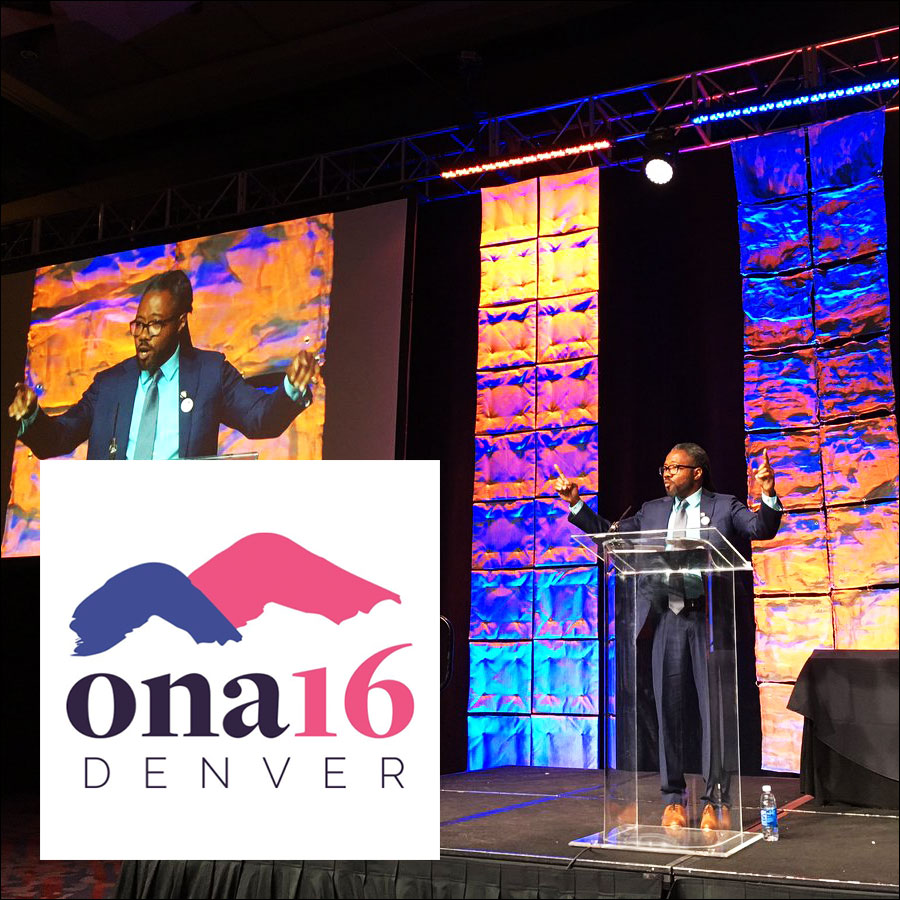 NPR's Al Letson, emcee of the awards banquet, opens the 2016 Online Journalism Awards with a poignant speech on the unifying power of journalism.
This Is the Second Consecutive Year the NPR-Member Station Has Been Recognized
By Abigail Gillum
Columbia, Mo. (Nov. 7, 2016) — For the second consecutive year, stories produced by KBIA-FM were recognized by the Online News Association at its annual conference. The NPR-member station won the General Excellence in Online Journalism award in the small market category in 2015. This year, KBIA was one of five finalists in the same category, which included the winner, The Texas Tribune, and De Correspondent, The Intercept and The Trace.
Missouri School of Journalism students work alongside KBIA's full-time faculty and professional staff to produce traditional radio newscasts and long-form stories. The station has a strong online presence, allowing students to produce multimedia stories specifically for the station's website.
KBIA, mid-Missouri's NPR-member station, is a learning lab for Missouri journalism students who produce stories with audio, video and text for the website while also producing traditional radio newscasts. KBIA has won five national Edward R. Murrow Awards since 2006. In addition, the station has won the regional Murrow award for best small market radio news website the last four years in a row.
The award entry incorporated one-time special reports, such as An Uncertain Road: Life After Premature Birth and Mizzou at a Crossroads, a special report on past and present racial issues at the University of Missouri. The submission also showcased the station's ongoing work such as the interactive community storytelling map Here Say and Access Missouri, an easy-to-use search tool that regularly aggregates information about Missouri legislation and legislators.
Student effort was woven throughout these projects. "Team reporting by a KBIA staff member and a grad student led to the 'sole voter in the Business Loop CID' story being completely blown up," said Ryan Famuliner, KBIA's news director. "Their reporting uncovered new voters using advanced mapping tools."
The general excellence award that KBIA submitted its entry for "honors a digitally focused news organization that successfully fulfills its editorial mission, effectively serves its audience, maximizes the use of digital tools and platforms and represents the highest journalistic standards," according to the Online News Association website.
Entries were judged on quality of journalism, a superb user experience and the use of social tools and other digital media to reach, inform and engage audiences.
Updated: October 6, 2020
Related Stories
Expand All
Collapse All
---