KBIA 91.3 FM Debuts New Home in McReynolds Hall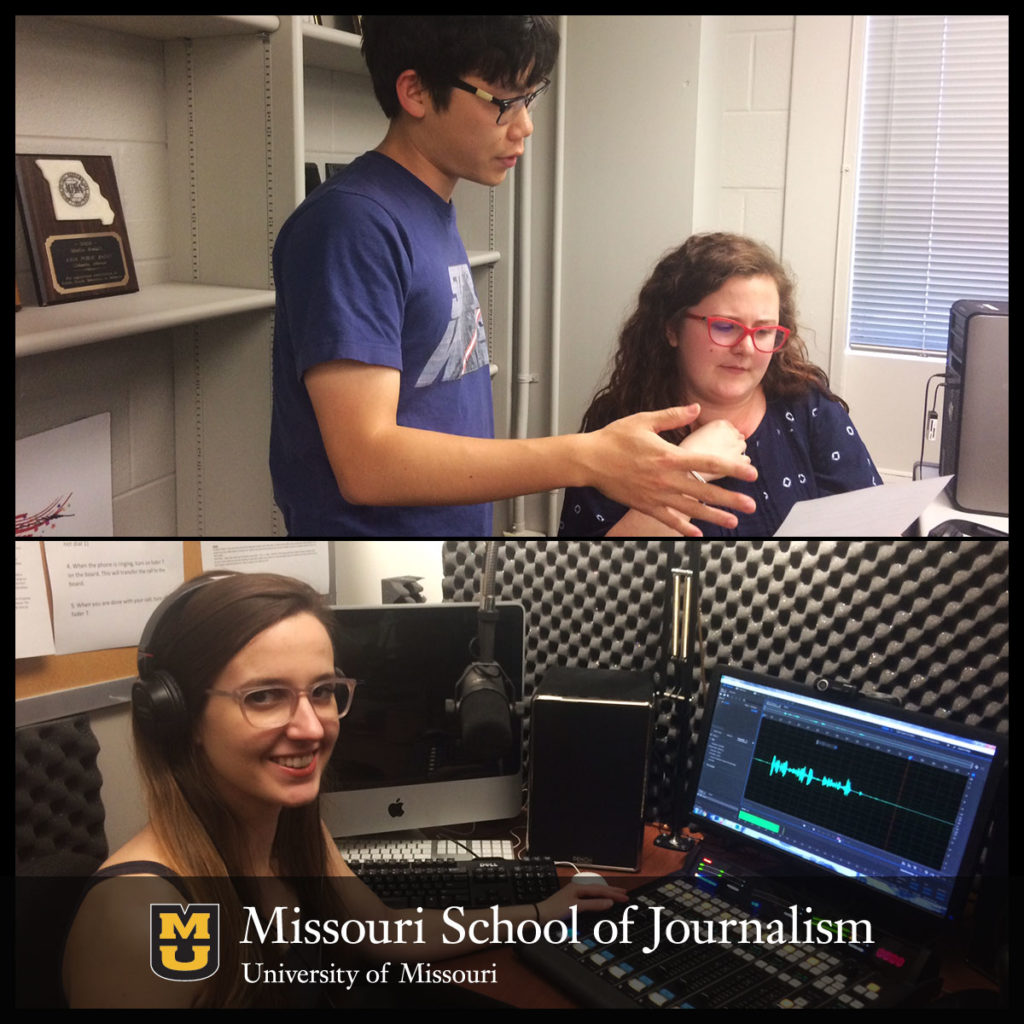 KBIA's new space in McReynolds Hall provides its professional staff and students with the tools necessary to produce top-quality audio.
The New Space Provides Professional Staff and Students with the Tools to Produce Top-Quality Audio
Columbia, Mo. (April 21, 2017) — KBIA-FM, Columbia's listener-supported NPR-member station, has a new home. It's in McReynolds Hall, just across Peace Park from the Missouri School of Journalism.
"The new offices give us space for station staff to do our work, and to instruct and collaborate with our students," said Assistant News Director Sara Shahriari. "The new studios, which are sound-proofed, beautiful and house great equipment, give our professional staff and students the tools to produce top-quality audio. In short, we're thrilled."
KBIA was housed in Jesse Hall for most of its history. When the building was renovated in May 2014, KBIA moved out, and its on-air operations, staff, and the news team split between three different locations. That made communication difficult for KBIA's staff, which works together closely. After the renovations at Jesse Hall, the Kinder Institute was moved into KBIA's old space, and KBIA had to find a new home. It is, finally, McReynolds Hall, where the KBIA staff is reunited after three years.
Mike Dunn is KBIA's general manager. "It was hard to actually sit down and speak with people. That resulted in a lot of wasted time," he said of the staff's years of working in different locations. Along with facilitating communication for staff, the new offices also better showcases KBIA's work for guests, recruiters and prospective donors.
"This space reflects that we are an established, professional radio station that serves the community and helps educate more than 100 journalism students each year," Dunn said.
The new location cost approximately $602,000, which was paid by the University of Missouri. The office has been reconstructed and refurbished, and the new student newsroom has 11 student workstations and two recording studios. The station's main on-air studios are the only part of the construction project yet to be completed, and those will be finished in fall 2017. In the meantime, the main broadcast runs out of a temporary studio on the ground floor of McReynolds.
News Director Ryan Famuliner says the new facilities in McReynolds Hall will serve students and the station better than previous spaces.
"Our new space offers a good mixture of large work spaces and private studios and offices that fit our daily needs," he said.
Claire Banderas is a senior majoring in journalism who works with KBIA. "The old newsroom was so crowded that you only wanted to be there when you had to," she said. "Now there's space and more people stay and talk, and that leads to more collaboration."
The new studios are also keeping up with the times. Students have the ability to record interviews via Skype or Facetime Audio, which improves interview audio quality. That's thanks to Patrick Neelin, KBIA-FM chief engineer.
Another key change is that KBIA is able to resume live newscasts. Beginning in the summer of 2014, KBIA's news team was housed in a small space in Gannett Hall. It recorded newscasts and sent them through to air because the newsroom and on-air studios were in two different locations. Now, the students walk right into the studio to read their newscasts live on the air.
"That's an important experience for these students to get on a regular basis, and I'm really happy we're able to resume that," Famuliner said.
"The new space reflects the award-winning, hard-working station we are," Shahriari added. "It shows our students and staff that their work is valued, and gives us the tools to do even more great work and improve our students' professional experiences."
KBIA has served mid-Missouri since 1972. KBIA is a university-licensed, community-supported not-for-profit institution, actively involved in the life of the mid-Missouri area. The station is the area's largest provider of arts programming, serving more than 30,000 listeners and members each week.
Updated: October 16, 2020
Related Stories
Expand All
Collapse All
---