KBIA-FM Team Publishes Multimedia Package on Campus Race Relations
Audio Stories of 'Mizzou at a Crossroads' Will Be Available as Podcasts
By Ashley Szatala
Columbia, Mo. (March 15, 2016) — A new multimedia project on race relations at the University of Missouri allowed students and faculty at KBIA-FM to explore new storytelling techniques.
"Mizzou at a Crossroads" is an in-depth analysis on the history of race relations at MU, the efforts to start conversations about race on campus, the process behind hiring former University of Missouri System President Tim Wolfe, and an overview of what might be in store for the future of UM leadership.
"We spent a lot of time conceptualizing this project and coming up with stories that we felt were very important to understanding what happened on the MU campus in November," said KBIA News Director Ryan Famuliner. "Despite the widespread coverage of this story, I think we found some stories that weren't being told by other outlets across the country."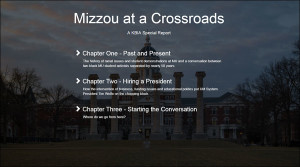 The creation of the special series began after the events of Nov. 9, when graduate student Jonathan Butler ended his weeklong hunger strike, campus protests were captured on video and Wolfe resigned.
Staff and faculty put together three in-depth stories, between 20 and 3stern0 minutes long each, which aired on KBIA in February.
"Every full-time staff member in the newsroom took on a part of one of the stories, and we also incorporated students in the conceptualization and reporting process," Famuliner said. "We try to do these faculty-student stories as often as we can, and this seemed like a good opportunity for that."
In addition to the traditional radio stories, KBIA sought to try the story out in different formats online as well. The result was an online story with interactive layouts containing audio reports, photographs and text for an immersive informational experience, all intended to serve as a source of information on university funding and policies, state politics and student demands. Digital content director Nathan Lawrence oversaw the online development.
The audio stories will also be distributed later through iTunes as podcasts. The popularity of the podcasts will be an experiment for KBIA staff to see how well this content does on the platform.
Staff reporters Rebecca Smith, Kristofor Husted and Bram Sable-Smith collaborated on the three-part special report. Others who contributed were graduate student Guimel Sibingo, Assistant News Director Sara Shahriari and News Director Ryan Famuliner.
Associate professors Mark Hinojosa and Earnest Perry as well as director of the Futures Lab Rueben Stern advised the students and staff on the project at various levels of its development.
Updated: September 22, 2020
Related Stories
Expand All
Collapse All
---