Radio Reporting Lab Offers New Learning Opportunity for Journalism Students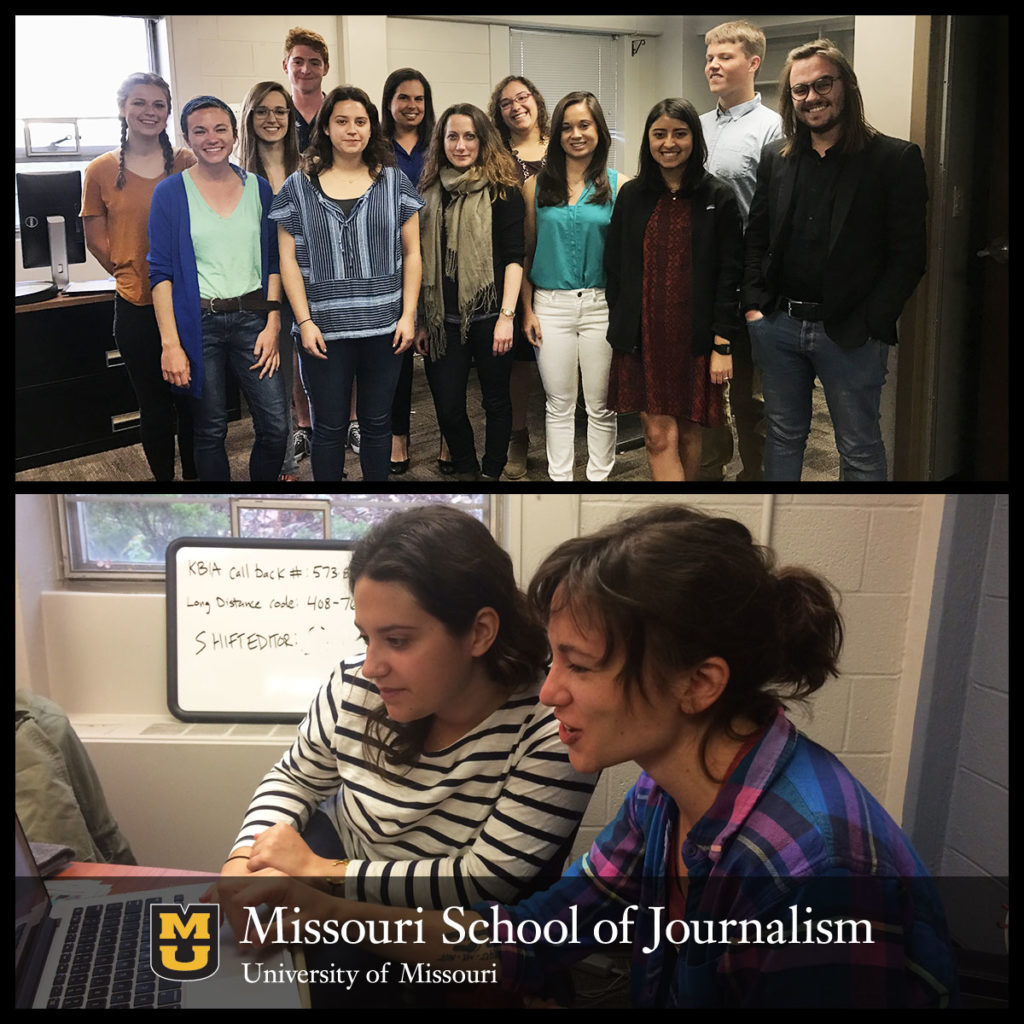 At top, undergraduate and graduate advanced reporters from across the journalism school worked together on radio feature stories aired on KBIA. At bottom, graduate students Erin McKinstry, left, and Catherine Wheeler edit together during a lab.
The Course Helps Students Add Audio Skills to Their Reporting Tool Kits
Columbia, Mo. (May 9, 2017) — Radio-focused students had a new experience this semester at KBIA 91.3 FM.
The NPR-member station housed in the Missouri School of Journalism is offering advanced reporters a classroom and newsroom experience focused on building a professional radio reporting portfolio.
Assistant Professor Sara Shahriari, who serves as KBIA's assistant news director, teaches the new Radio Reporting Lab.
"We are hearing from a growing number of broadcast students who want to specifically pursue radio reporting, and we decided to create a space where they could get focused instruction," she said. Shahriari and KBIA News Director Ryan Famuliner worked with radio-TV journalism chair Kent Collins, Associate Professor Elizabeth Frogge and then-graduate adviser Martha Pickens to create this new radio-specific lab section.
"Once we created it, advanced reporters from different parts of the school, like the school's daily newspaper, started reaching out to me, and it seemed like a perfect opportunity to help them add audio skills to their reporting tool kits through an independent study," Shahriari said.
Erin McKinstry is a first-year master's student with a focus in investigative reporting. She said the Radio Reporting Lab allowed her to explore audio without following the broadcast track.
"I've discovered that I love creating audio, and I'm not sure I would've known that otherwise," McKinstry said. "The positive learning environment and workshop format have pushed me to keep improving my work without getting discouraged by my mistakes."
KBIA is a long-standing staple of the radio-television and convergence journalism areas at the Missouri School of Journalism. Scores of Missouri graduates work in public media across the country, and students have won numerous national professional awards for their work, including the national Edward R. Murrow Award and Sigma Delta Chi Award from the Society of Professional Journalists. Most recently, two radio students placed in the top five of the national Hearst Awards competition. KBIA staff recognized the need for a formal path through the school for students interested in audio production.
"In a lot of ways, audio storytelling is a new frontier. While many of our students go on to be public radio reporters and producers, there is also a lot of interest among our students in podcast hosting and production," said Famuliner. "This new course, in tandem with other courses across the school, offers students an entry point into high-level audio production, as well as a clear path after graduation."
Students report short news stories weekly in the KBIA newsroom, and also report, produce and edit features in a collaborative workshop environment. These stories often air on KBIA.
Elena Rivera is a graduate student in broadcast focused on radio reporting. She said the classroom critiques and the collaborative process of working through pitches and formatting a story with the help of other students made Radio Reporting Lab her favorite class.
"Hearing specific and helpful feedback from fellow students and KBIA reporters has helped me to craft better stories," she said. "It has also helped me develop a critical radio ear when I am listening to Morning Edition or Marketplace pieces."
Senior Julien Coquelle-Roehm reflected on how much he learned throughout the semester. He said the weekly shifts in the newsroom taught him how to work on a deadline and produce short, efficient stories for the station's newscast.
"It is a demanding exercise where every minute – and word – counts, but it is a very important one," Coquelle-Roehm said. "I think it is crucial for any reporter to know how to pitch a story that is sometimes totally new to them, cold-call sources and turn the whole thing into a short story that listeners can understand without previous knowledge."
Students can later put the skills they learn in this lab to use in classes specializing in audio production, as KBIA newscasters or show hosts, and in the workforce.
"Over the past few months I have been able to create a number of different radio packages and receive constructive feedback in a positive learning environment," exchange student Jaime Braidwood said. "The class has been hugely enjoyable, and I will be able to leave the university after my semester with a comprehensive and varied audio reporting portfolio."
KBIA Radio Reporting Lab Student Stories
Welcome Home to Open a New Facility on Business Loop 70
Updated: October 20, 2020
Related Stories
Expand All
Collapse All
---