Second-Ever Reporting Shift: Student's KBIA-FM Story Picked Up by NPR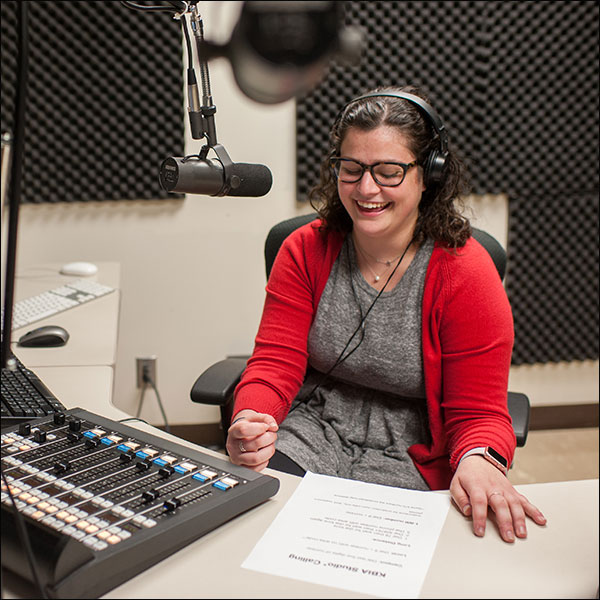 Convergence journalism student Abby Ivory-Ganja fine-tunes her broadcast before submitting it to NPR's national database. NPR picked up Ivory-Ganja's story for national syndication on Sept. 29. (Photo: Shane Epping.)
Abby Ivory-Ganja Credits Professors, Right Attitude for Ability to Handle the Assignment
By Meghan Gordon
Columbia, Mo. (Oct. 13, 2016) — When convergence journalism student Abby Ivory-Ganja reported to her second-ever shift at KBIA-FM, she was asked to cover the aftermath of a race-related altercation that had occurred just hours earlier on the University of Missouri campus. Little did she know her story would land her on NPR 24 hours later.
During the early hours of Sept. 28, the Legion of Black Collegians released a statement detailing a race-related incident that occurred between two LBC members and several white students. Shortly after, the organization announced an emergency town hall meeting inside Gaines/Oldham Black Culture Center "to answer the questions of our students and update them on the situation."
Sara Shahriari, KBIA's assistant news director, asked Ivory-Ganja to cover the story. Ivory-Ganja was selected based on her strong writing skills and her desire to report. Shahriari also enlisted experienced reporter and graduate student Riley Beggin to assist Ivory-Ganja in her coverage.
"At KBIA, we work to strike that balance between giving people the training and support they need and getting our reporters out into the world to learn by doing," Shahriari said.
The women began researching, making phone calls and preparing a script. Eventually, Ivory-Ganja made her way to the LBC town hall meeting, interviewing Missouri Students Association President Sean Earl after the town hall.
Upon returning to KBIA to produce her segment, Ivory-Ganja learned that News Director Ryan Famuliner had pitched her story to NPR's national newscast desk. Ivory-Ganja spent the rest of her evening editing the piece. Around midnight, Ivory-Ganja submitted her work to NPR's national database.
The next morning, NPR picked up Ivory-Ganja's piece for national syndication.
"Getting a story on NPR in your second reporting shift ever is just absurd. That doesn't happen," Famuliner said. "We have had students get stories on NPR before, but it is unusual to get a story on this quickly. It's hard to imagine a quicker path."
Ivory-Ganja said that the response from fellow students and faculty has been phenomenal. She's received hundreds of congratulatory messages, including some from strangers, since her story was picked up.
Ultimately, Ivory-Ganja believes the support of the KBIA staff enabled her for success. She credits Famuliner and Shahriari in particular for trusting her with the story and making her feel comfortable throughout the process.
"It's all about having the right attitude," Ivory-Ganja said. "Some days you'll be really overwhelmed with a story you don't think you can handle, but it's all about just making the best of it."
Updated: October 5, 2020
Related Stories
Expand All
Collapse All
---