Journalism Professor Awarded 2016 Kemper Fellowship for Teaching Excellence
Earnest Perry Is One of Five Outstanding Teachers to Be Selected; Receives a $10,000 Check
By Nathan Hurst
MU News Bureau
Columbia, Mo. (April 5, 2016) — University of Missouri interim Chancellor Hank Foley and Commerce Bank Chairman Jim Schatz today awarded one of the 2016 William T. Kemper Fellowships for Teaching Excellence to Earnest L. Perry, associate professor of journalism studies and incoming associate dean for graduate studies at the Missouri School of Journalism.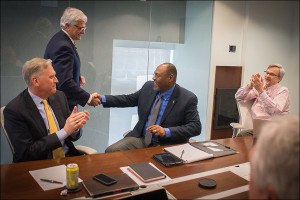 Foley, Schatz and a group of professors, administrators and staff surprised Perry by honoring him with the Fellowship, which includes a $10,000 check. Kemper Fellowships are awarded to five outstanding teachers at the University of Missouri each year.
This year is the 26th anniversary of the first William T. Kemper Fellowships for Teaching Excellence, which were established in 1991 with a $500,000 gift. Kemper, a 1926 MU graduate, was a well-known civic leader in Kansas City until his death in 1989. His 52-year career in banking included top positions at banks in Missouri, Kansas and Oklahoma. Commerce Bank manages the trust fund.
Students, faculty and alumni supported Perry's nomination for the Kemper.
"We are led by our trailblazer of an advisor, Dr. Earnest Perry," noted Ashley Holt, president of the National Association of Black Journalists-MU, in her letter. "If there is any faculty member on this campus who deserves an award for being outstanding teacher, advisor and mentor, it's him."
Perry served as Aimee Edmondson's dissertation adviser. "I can tell you first hand he works to help graduate students get a wide range of teaching experience, from introductory lecture classes to skills courses. This helps Missouri graduate students have a significant leg up on the competition for job placement at other universities upon graduation." Edmonson now serves as an associate professor in journalism at Ohio University.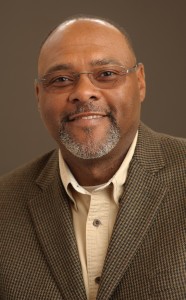 About Earnest L. Perry
Incoming Associate Dean for Graduate Studies
Associate Professor, Journalism Studies
Coordinator, Doctoral Teaching Program
MU Faculty Member since 2003
Earnest L. Perry's teaching philosophy revolves around the phrase: "There is nothing wrong with being ignorant, but a lot wrong with remaining ignorant." Perry stands out as a national leader among those who teach and advocate for inclusion and diversity and his goal as a journalism professor is to teach students the importance of gaining as much knowledge as possible about a variety of subjects. Perry says his passion is to challenge students, faculty members and himself every day to face the fear of ignorance and to embrace the knowledge you can obtain from others.
Missouri School of Journalism Dean David Kurpius says that from student instruction of undergraduates, to mentoring of doctoral and master's students, to the application of his own scholarship in the teaching process, Perry demonstrates his dedication to the advancement of student learning. Due to these qualities, Perry recently was named as the new associate dean for graduate studies at the Missouri School of Journalism. He will begin his new position on July 1.
"He encourages discussion in classes – sometimes heated, but always respectful – and he challenges students to analyze their own assumptions about the way they think about those of different races or genders," said Aimee Edmondson, associate professor at Ohio University E.W. Scripps School of Journalism and former MU doctoral student of Perry. "He has a booming voice and can appear gruff at first, but that is one of the things that makes him uniquely Earnest. Both undergraduate and graduate students learn, and then flock to him for classes and advising."
In his years of teaching at MU, Perry has been instrumental in the renewal and transformation of two cornerstone large lecture courses in the School of Journalism. The courses raise issues of race, gender and other differences.
"Over the course of a decade, Perry led faculty efforts as chair of the Journalism Studies faculty, as chair of ad hoc groups charged with revision, and as a faculty member deeply dedicated to the importance of these courses," said Dean Mills, MU School of Journalism Dean Emeritus. "When he began his efforts, both courses were deeply unpopular with the undergraduates at which they were aimed – young people whom, journalism faculty thought – needed the content of the courses to prepare adequately for careers in journalism. Those courses now are quite popular."
Mills says the courses were transformed, largely by Perry, through innovative methods of delivering courses through combinations of new lecture styles, small discussion groups, online interactivity and others.
"Earnest built a strong program, and it made a difference to the hundreds, and now thousands, of students who have gone through the curriculum," said Maria E. Len-Rios, former faculty member at Missouri School of Journalism. "More students were realizing that they were part of a diverse America and that they had a responsibility to tell wider, multidimensional stories and to market to a more diverse audience. This realization would not have happened without Earnest."
Perry also has been at the center of a number of other efforts to improve the quality and rigor of teaching in the MU School of Journalism. As a multi-term faculty chair, Perry implemented procedures to support classroom management for the good of students, requiring a rotation of senior faculty in teaching the school's core curriculum. He also was instrumental in the development of the Future Faculty Teaching Program, a program for doctoral students that began in 2006 and prepares future teachers for life in the classroom.
The highly successful program has sent dozens of skilled faculty with excellent research and teaching skills to journalism and communications schools around the world. Perry has had an incalculable impact on teaching, not just at Missouri, but world-wide.
In addition, Perry advises the school's student chapter of the National Association of Black Journalists, a group that won the nation's top award for student groups in 2014. Perry also is a member of the university's Intercollegiate Athletics Committee and advises campus leadership on all matters related to MU's student-athletes.
Most recently, Perry served as co-editor of a textbook, "Cross-Cultural Journalism: Communicating Strategically About Diversity." The book is designed to teach college students how to write about and communicate with people of backgrounds different from their own. The book puts the MU School of Journalism at the forefront of schools that are leading the way in an era when our society is challenged by issues of inclusion.
Perry earned a bachelor's degree in journalism from Texas Christian University and he earned his master's and doctorate in journalism from the University of Missouri.
Updated: September 24, 2020
Related Stories
Expand All
Collapse All
---