Earnest Perry Named New Associate Dean for Graduate Studies
His Appointment Will Be Effective July 1
Columbia, Mo. (March 22, 2016) — Earnest Perry will be the new associate dean for graduate studies at the Missouri School of Journalism, Dean David Kurpius announced today. His appointment is effective July 1.
"Earnest has long demonstrated a passion for developing the talents of master's and doctoral students," Kurpius said. "He has an established research agenda, proven administrative abilities and is recognized internationally as a leader in journalism education. We're thrilled he has accepted this challenge."
Perry succeeds Esther Thorson, who joined the School as the associate dean for graduate studies and research in 1993.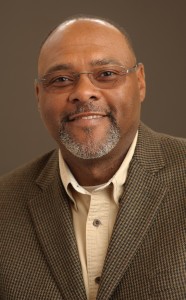 Perry, an associate professor of journalism studies, currently coordinates the School's doctoral teaching program. He trains doctoral students to teach a variety of undergraduate classes, from writing and multimedia classes to large lecture courses. Perry also administers the School's Doctoral Teaching Fellowship, which awards two, $25,000, four-year scholarships to doctoral candidates.
From 2005-11 and again from 2013-14, Perry served as chair of the Journalism Studies faculty, which oversees the School's undergraduate core curriculum.
"Dr. Perry is a respected scholar and recognized leader in graduate education on both the campus and international levels," said University of Missouri Provost Garnett Stokes. "I applaud his selection."
Perry, MA '95, PhD '98, returned to the Missouri School of Journalism in 2003 to redevelop the School's cross-cultural journalism course. He previously led the news-editorial program in the Department of Journalism at Texas Christian University. While there he helped redesigned both the undergraduate and master's programs.
Perry is a member of the Association for Education in Journalism and Mass Communication Standing Committee on Teaching and previously served as chair of the Standing Committee on Research. He also served as president of the American Journalism Historians Association.
His research interests center on African-American press history, specifically the Black Press during the first half of the 20th century. He has published articles on history, cross-cultural journalism education and media management in leading peer-reviewed academic journals including American Journalism, Journalism History, Journalism and Mass Communication Educator and Journalism and Mass Communication Quarterly. He recently co-edited the book, "Cross-Cultural Journalism: Communicating Strategically About Diversity," with Maria Len-Rios, PhD '02, from the University of Georgia.
"The Missouri School of Journalism is gaining a steady hand in Earnest Perry," said Glen Cameron, the Maxine Gregory Wilson Chair in Journalism Research. "His experience as a campus leader and his skills as an administrator in the School are much needed as the campus begins a renewal process after the recent difficulties we have experienced."
Perry's professional career includes stints as a reporter for newspapers in Illinois, Connecticut and Texas. He has also served as a consultant to news outlets in Texas and Missouri on issues such as newsroom management, reporting in ethnic minority communities, news writing and editing. For more than 20 years, Perry worked with ethnic minority high school journalists in summer workshops in Texas, Missouri and Oklahoma.
"I follow in the footsteps of a tremendous scholar, one of the most successful graduate deans in the School's history," Perry said. "We will continue to build on the strong foundation Dr. Thorson established."
Updated: September 22, 2020
Related Stories
Expand All
Collapse All
---