Earnest Perry Selected for Summer Institute at Harvard University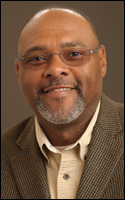 Columbia, Mo. (April 12, 2011) — Earnest L. Perry Jr., associate professor and chair of journalism studies at the Missouri School of Journalism, has been selected to participate in the 2011 National Endowment for the Humanities (NEH) Summer Institute for College Teachers at the W.E.B. Du Bois Institute at Harvard University.
The four-week program, hosted by Henry Louis Gates Jr., is titled "African-American Struggles for Freedom and Civil Rights 1865-1965." Perry will engage in an intensive program of reading and discussion with leading scholars, reviewing new and recent scholarship as well as a rich array of sources. These include oral histories, memoirs, documentary films, music and archival sources, particularly the papers of the National Association for the Advancement of Colored People (NAACP).
Perry plans to use the experience to enhance the School's cross-cultural journalism and history of American journalism classes. He also plans to conduct research on the African-American press during World War II for a book project.
Perry's research interests focus on African-American press history and diversity in journalism education. He is chair of the Association for Education in Journalism and Mass Communication (AEJMC) Standing Committee on Research and is past president of the American Journalism Historians Association.
The Du Bois-NEH Summer Institute at Harvard is part of an ongoing effort to identify and review monographs and primary source materials that provide for a deeper understanding of African-American efforts to secure full citizenship and civil rights, and to situate that movement within the broader context of American history.
Updated: May 21, 2020
Related Stories
Expand All
Collapse All
---