Reynolds Journalism Institute awards funding support to two ongoing faculty research projects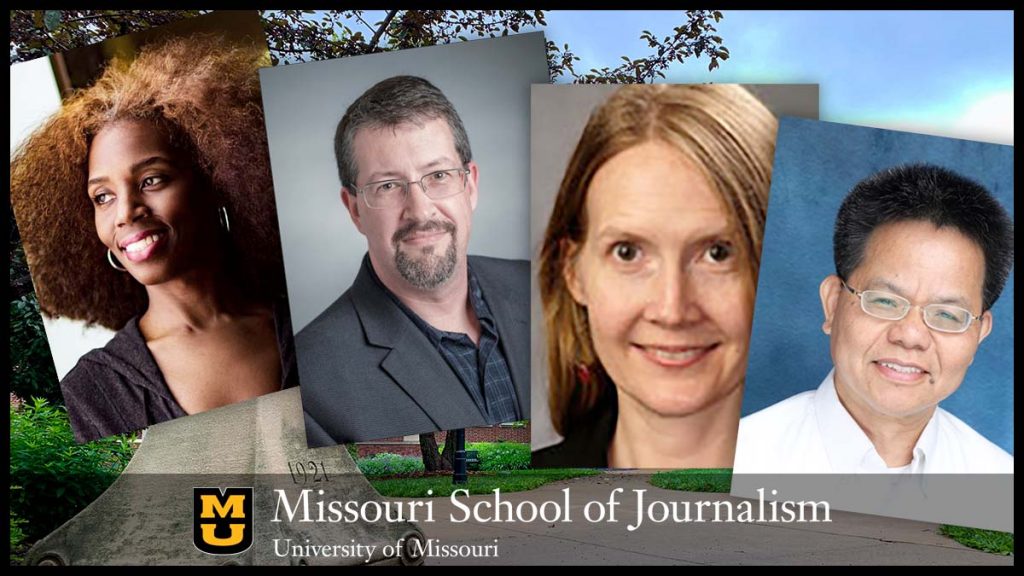 Columbia, Mo. (Oct. 13, 2021) — The Reynolds Journalism Institute (RJI) today announced the winners of this year's faculty funding support, which provides $25,000 for research at the Missouri School of Journalism that is of interest to the news or strategic communications industries. This year's awardees are Janet Saidi and Alicia Haywood for "Missouri on Mic," their project documenting oral histories from around the state, and Damon Kiesow and Shuhua Zhou for their research into how people understand the news they read.
"Both of these projects will help fill in some of the gaps the news industry has about the people who consume the news — the audience," said Randy Picht, RJI's executive director. "The audience is changing, for sure. Journalism needs to change as well, and research like this contributes to the roadmap for that change."
Amplifying community voices
For Saidi and Haywood, the funding support represents the next big step for their project, which brings a mobile audio booth to events in central Missouri and asks attendees to share their stories, which are then included in a weekly radio segment on NPR affiliate KBIA 91.3 FM. This year's events included the Missouri State Fair and the naturalization ceremony at the state Capitol.
"After a tumultuous year of pandemic and great division, these kinds of projects that connect journalists with citizens have become essential and urgent," said Saidi, assistant news director at KBIA. "We want to explore how this kind of project can build the public's trust in journalists through this kind of extraordinary interaction that foregrounds human-to-human connection rather than pressing first into trauma and tragedy," Haywood added.
"Missouri on Mic" presents a broad range of human experience — one recent episode delved into a Chinese immigrant's experiences with racism during the coronavirus pandemic, while another recounted the story of a young woman fighting to keep her grandmother's house in the family.
Beyond the show, the funding will allow Saidi and Haywood to document what they are learning about journalism through the project — such as how conversations help the media build trust with individuals and communities — and compare it with similar programs at other newsrooms. Ultimately, the researchers aim to create industry conversations and seminars to help journalists and media organizations tell quality stories through face-to-face interactions with citizens. Additionally, they hope to expand the program into more rural and underserved communities in the state.
"The RJI support will allow us to document the trials and triumphs behind putting this project together, and in a way that other newsrooms anywhere can re-create and build on," said Haywood, visiting assistant professor at the School of Journalism.
The medium is the message
Kiesow and Zhou, who received support from RJI for the second year in a row, are working to understand how people consume media and developing solutions for the industry to increase news comprehension and engagement. Conducting a series of interviews with news consumers in the community, the researchers have set out to identify the tools readers use to understand what they read, which means analyzing what information readers glean from headlines, the layout of the publication, and the date a story was published, among other factors.
While last year's research primarily focused on print media, this year's work consists of a similar analysis of digital media, along with a third branch of research that will consist of interviews with news producers to learn what they think about any concerns or insights gleaned from the previous two sets of research and analysis.
"Our goal is to learn how we can best help people to make sense of the news we publish," said Kiesow, professor and Knight Chair in Digital Editing and Producing. "Everything from how something is written to the design of the page sends signals to the reader, who has to interpret those signals. We want to maximize understanding while minimizing the amount of time someone has to spend figuring out what the story is trying to tell them."
Kiesow and Zhou have developed a site that mirrors online content from the School of Journalism's digital-first community newsroom, the Columbia Missourian. This allows them to change stories and layouts at will, presenting the perfect opportunity to experiment with how an altered headline, font, or placement of a story might change how readers process information. For the technology, legwork and manpower required, Kiesow said the funding has been crucial, especially at a time when understanding the how people consume news is of critical importance to the industry.
"When it comes to digital media, about half of the nation's readers want to see a representation of the day's newspaper online, and the other half want a unique digital experience that gives them the latest news," Kiesow said. "How do news organizations deal with those competing interests? This research is giving us the information we need to create design solutions that will address this question and many others."
Updated: October 19, 2021
Related Stories
Expand All
Collapse All
---