Five Missouri School of Journalism students named to Knight Nonprofit News Internship program for summer 2020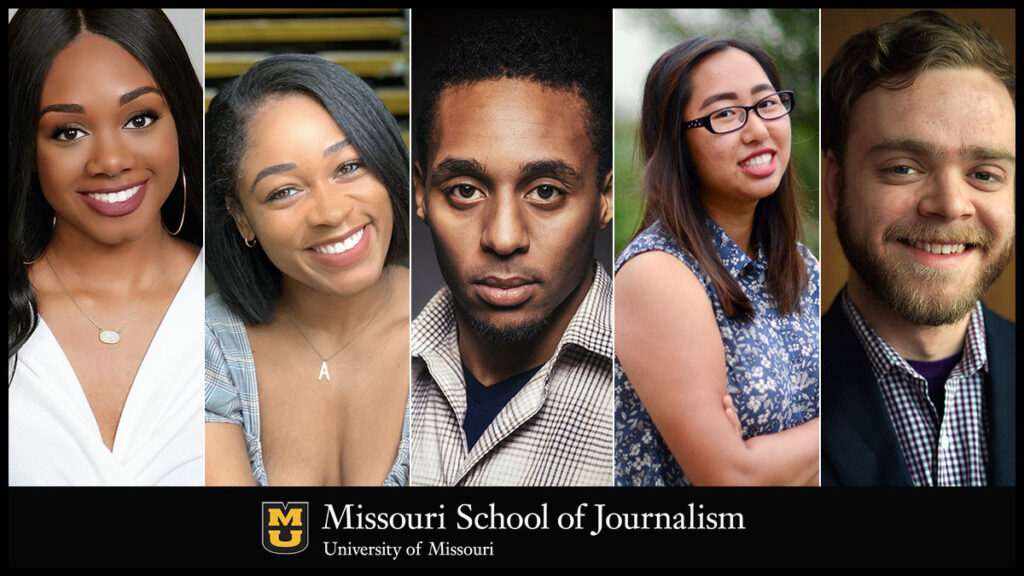 Missouri School of Journalism students Autumn Black, Alexia Diamond, Adam Jackson, Annie Le, and Sam Manas will spend their summer taking part in the Knight Nonprofit News Internship program at news outlets across the U.S.
Subsidy makes internships more affordable for newsrooms when many are canceling internships because of COVID-19
By Jennifer Nelson
Columbia, Mo. (May 19, 2020) — This summer five Missouri School of Journalism students will take part in the Knight Nonprofit News Internship program, a diverse scholarship partnership between MU and the Institute for Nonprofit News. The program strives to develop a more diverse workforce – particularly in the area of leadership and management.
The students will work for INN member newsrooms with the help of the subsidized internships. This year's students and newsroom partners are Autumn Black, CalMatters; Alexia Diamond, Chicago Reporter; Adam Jackson, DCist; Annie T.H. Le, KC Beacon; and Sam Manas, The City.
The internship program selects diverse students to place into newsrooms, particularly in audience and product management positions that could potentially lead to management and leadership roles, said Damon Kiesow, professor and Knight Chair in Digital Editing and Producing at the Journalism School.
"This program is a great way to build the diversity pipeline on the business side of news and expose students of varying diversities to the different opportunities like product management and the audience engagement side of the business," said Ron Kelley, associate professor and executive director of student development, diversity and inclusion at the Journalism School, who has been working with Kiesow to coordinate the internships. "Many of these roles lead to leadership positions and we desperately need more diversity in management and leadership roles."
The internship program, which launched last year in partnership with INN, partners with newsrooms that need help with a variety of projects whether it's assisting with membership or paywall models, audience engagement, analytics, live event planning, email newsletters or other projects.
"We got nothing but good feedback last year from both students and newsrooms," said Kiesow. "In fact one of the interns from last year turned his internship experience into his master's project."
The internships, which may take place remotely this year because of COVID-19, will be co-funded by the partner newsrooms and Kiesow's Knight Chair budget, which is made up of funding from the John S. and James L. Knight Foundation and the state of Missouri. Internship programs like the Knight Nonprofit News Internship are helping some newsrooms who are having to cancel internships because of economic reasons caused by COVID-19 and other reasons.
"INN member organizations are working hard to serve their communities during the COVID-19 crisis, and MU interns will both contribute to and learn from these dedicated nonprofit news teams," said Sara Shahriari, MA '09, director of leadership and talent development at INN. "Increasing diversity in news leadership on both the editorial and business sides is one of INN's key initiatives, and I'm excited about the continued partnership between INN, its members and MU."
Meet the interns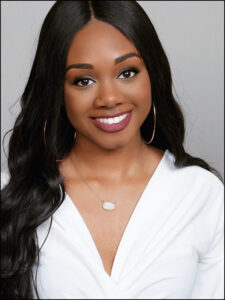 Senior Autumn Black, of Lee's Summit, Missouri, who is studying convergence journalism, will help CalMatters, a newsroom focusing on California politics and policy. As a marketing intern, her role will include assisting with social media, content creation, data analytics and audience retention. She's looking forward to working in the political space of CalMatters.
"I've always wanted to expand my horizons and take on a role where I can learn something new," said Black. "By the end of the program, I'm sure I will learn a lot more about politics and California policy."
As someone who is also minoring in business, Black said she's thankful to find a role that combines both business and news. She is hoping to further sharpen her marketing skills during the internship and refine what she'd like to do in the marketing space after graduation.
While at MU, Black has served as the vice president of MU's National Association of Black Journalists chapter. She is a Novak Scholar through the David Novak Leadership Institute and the student lead for the Center of Academic Success and Excellence's student marketing team.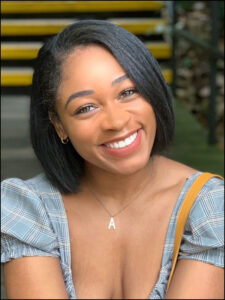 Senior Alexia Diamond, of Kansas City, Missouri, who is studying convergence multimedia journalism, will assist the Chicago Reporter's membership and outreach department with database and editorial product development and launches. She will also be assisting with advertising research and event planning.
She applied to the program as a way to gain more experience in marketing, analytics and product development.
"From this internship, I hope to take away tips, tricks and confidence in marketing," she said. "I also hope I can take away lasting connections in the industry that is ever-changing."
During her time at MU, Diamond has been involved in the local chapter of NABJ.
She is also currently the public relations coordinator for Dream Outside the Box Mizzou, where she volunteers her time with young local elementary students. She also gives tours to prospective high school students as a Mizzou Journalism Ambassador.
She has worked with the McCann Advertising Company to create an ad campaign for Spotify in Tokyo, Japan, for a study abroad program. She has also studied abroad in New Delhi, India, working with the Indian Express.
Diamond hopes to work in the entertainment industry as a creative or social media specialist after she graduates.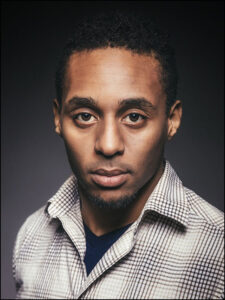 Senior Adam Jackson, of Kansas City, Missouri, who is studying strategic communication, will assist newsroom staff at DCist, a membership based news site, to gain a better understanding about the data they obtain from members. They will then use the information to better connect with readers and grow DCist's membership.
WAMU, DCist's parent company, cancelled summer internships that weren't externally funded. Funding from INN and MU allowed this internship to continue, said Rachel Sadon, editor in chief at DCist.
Jackson said as someone who is interested in public relations, he feels getting newsroom experience will prepare him better for understanding how to establish and build relationships with the press. He is also looking forward to working with data analytics during his internship.
"I am a statistics minor and will complete the certificate in sports analytics, so this aspect of the internship allows me to gain real world experience in multiple areas I study," he said. "In addition to the solid work experience I hope to take away a strong social and professional network from this internship."
Following his internship at DCist, Jackson will begin an internship with the Mizzou Athletics Department.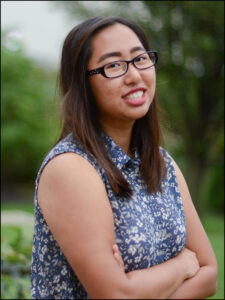 Junior Annie Le, of Joplin, Missouri, who studies convergence journalism, will help the Beacon in Kansas City report stories. The Beacon is a new publication that focuses on solutions journalism.
"I hope to understand more about the communities that I cover," said Le. "I enjoy learning about the different moving parts in society and how they interact with each other."
Le said she's interested in entering the nonprofit sector of journalism when she graduates, so she is looking forward to learning more about the importance of nonprofit journalism during her upcoming internship.
Graduate student Sam Manas, of Severna Park, Maryland, will help The City with an engagement project. This is the second year he has participated in the Knight internship program. Last year he interned with The Conversation.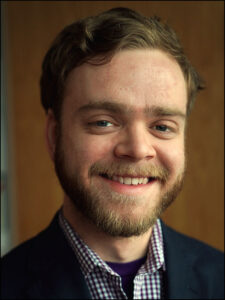 He said he is looking forward to working on the engagement project from start to finish and launching it out into the world.
Manas said he is also looking forward to expanding his skillset as a reporter and making himself as useful as possible.
"I think it's an opportunity to look at the other parts of journalism that I'm not already committed to and look at those potential options," he said. "I don't want to close doors."
Manas is currently a reporting fellow for the Texas Tribune and covers legislation for the Columbia Missourian. He's also previously worked on newsletter products for The Conversation and worked as a freelance writer for Maryland Matters where he covered breaking news, features and political news.
About INN
INN strengthens and supports more than 250 independent news organizations in a new kind of media network: nonprofit, nonpartisan and dedicated to public service. From local news to in-depth reporting on pressing global issues, INN's members tell stories that otherwise would go untold – connecting communities, holding the powerful accountable and strengthening democracy.
Updated: May 27, 2021
Related Stories
Expand All
Collapse All
---