Journalism students named to Knight Nonprofit News internship summer program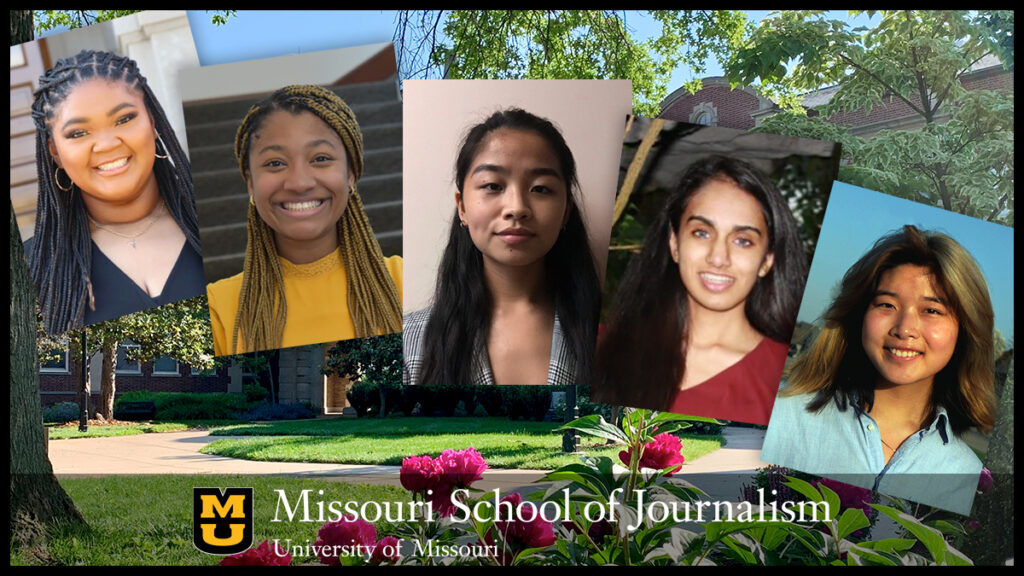 Five students will work for INN member newsrooms on a variety of projects.
Columbia, Mo. (June 1, 2021) — This summer five Missouri School of Journalism students will take part in the Knight Nonprofit News Internship program, a diverse scholarship partnership between MU and the Institute for Nonprofit News. The program strives to develop a more diverse workforce – particularly in the area of leadership and management.
The students will work for INN member newsrooms with the help of the subsidized internships. This year's students and newsroom partners are Amari Foster, The Texas Tribune (Austin); Rachel Henderson, Wisconsin Watch (Madison); Cela Migan, Inside Climate News (Brooklyn); Prathithi Parasuram, CalMatters (Sacramento); and Moy Zhong, The Beacon (Kansas City).
"This is the third year of the program and we are thrilled that interest from both students and newsroom continues to grow," said Damon Kiesow, professor and Knight Chair in Digital Editing and Producing at the Journalism School. "These are non-traditional journalism internships to some extent, as they focus on audience and product management roles — but both are areas that are seeing rapid growth in the industry and these are skills that students greatly benefit from, regardless of their eventual career path." 
The internship program partners with newsrooms that need help with a variety of projects whether it's assisting with membership or paywall models, audience engagement, analytics, live event planning, email newsletters or other projects.
"MU and the School of Journalism is committed to inclusion, diversity and equity and this program is an excellent example of our efforts to move the needle and get more students of color into the industry," said Ron Kelley, associate professor and executive director of student development, diversity and inclusion at the Journalism School, who has been working with Kiesow to coordinate the internships. "This program is a great way to build the diversity pipeline on the business side of news and expose students of varying diversities to the different opportunities like product management and the audience engagement side of the business."
The INN strengthens and supports 300 independent news organizations in a new kind of media network: nonprofit, nonpartisan and dedicated to public service. From local news to in-depth reporting on pressing global issues, INN's members tell stories that otherwise would go untold – connecting communities, holding the powerful accountable and strengthening democracy. INN programs help these news organizations develop revenue and business models to support strong reporting, collaborate on editorial and business innovation, share services and advance the diverse leaders who are forging a new future for news.
"Nonprofit news is a growing field, and that means more demand for people who can contribute as writers and editors, but also as leaders in audience growth, live events and fundraising," said Sara Shahriari, MA '09, director of leadership and talent development at INN.  "MU journalism students are ready to start on their paths toward these leadership positions, and INN member organizations provide wonderful opportunities for them to learn and put their skills to work on exciting projects."
The internships, which may take place remotely, will be co-funded by the partner newsrooms and Kiesow's Knight Chair budget, which is made up of funding from the John S. and James L. Knight Foundation and the state of Missouri.
Meet the interns
About Knight Foundation
The John S. and James L. Knight Foundation advances journalism in the digital age and invests in the vitality of communities where the Knight brothers owned newspapers. Since 1950, the Foundation has granted more than $400 million to advance quality journalism and freedom of expression. Knight Foundation focuses on projects that promote community engagement and lead to transformational change. For more, visit http://www.knightfoundation.org/.
Updated: June 1, 2021
Related Stories
Expand All
Collapse All
---