Two Missouri School of Journalism students among 50 Most Promising Multicultural Students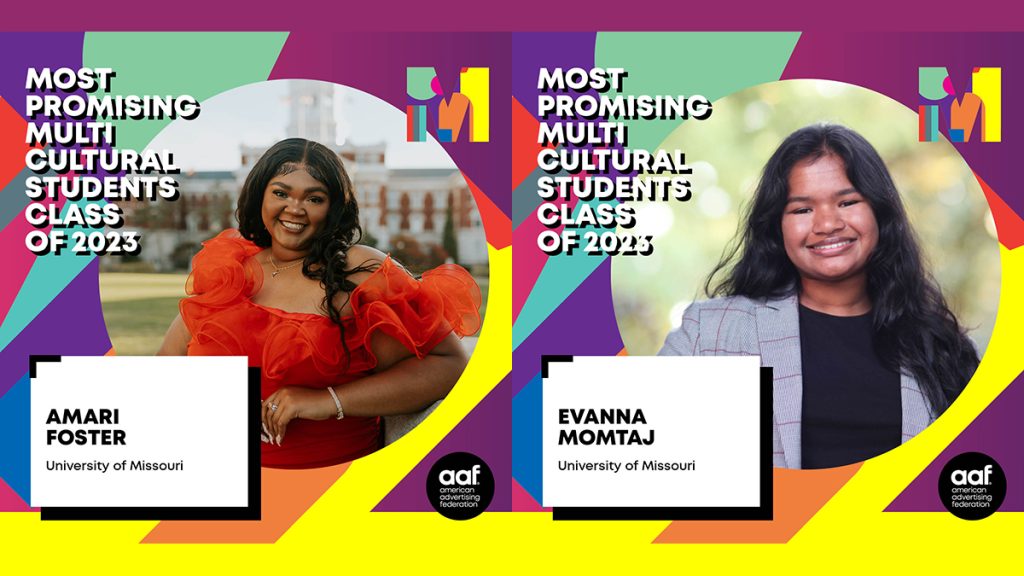 The American Advertising Federation selected Amari Foster and Evanna Momtaj for inclusion on its esteemed list of top multicultural students
COLUMBIA, Mo. (Feb. 2, 2023) — Two students at the Missouri School of Journalism have been named some of the American Advertising Federation's (AAF) 50 Most Promising Multicultural Students. Graduate student Amari Foster and senior Evanna Momtaj join the ranks of high-performing multicultural students from 28 schools and 18 states around the country.
"I'm so proud to see Evanna and Amari representing the School's strategic communication program at such an esteemed national level," said David Kurpius, dean of the School of Journalism. "This recognition places them in high demand as they prepare to embark on successful careers, and it's yet another indication that our talented and diverse student body is world class."
Beyond the recognition, which was bestowed by an expert panel of judges hailing from industry titans such as Ally Financial and Nissan Motor Company, the students will also take part in a four-day immersion program in New York, which will consist of professional development and recruitment opportunities. The program — which the AAF describes as "one of the organization's premier initiatives promoting diversity, equity and inclusion within the advertising industry" — aims to expose top multicultural college students to professionals in the advertising industry through educational workshops and networking.
Meet the students
Foster earned her bachelor's degree in journalism from the School in December and is now a graduate student studying strategic communication. Already in the second year of graduate school thanks to the School's Accelerated Master's Program, she is excited to take advantage of another opportunity to lay the groundwork for a successful career — an opportunity she has been building toward since early in her student career.
"I've been striving for this program since I was a sophomore," Foster said. "To be considered one of the most promising in the nation is absolutely amazing. It makes me feel incredibly grateful that I've had this presence that was hopefully stimulating to the people around me. I'm excited to get back to New York to meet all the partners and sponsors."
In her time at the School of Journalism, Foster has found a love for conducting marketing research that provides insights into peoples' perceptions and interests. She has taken advantage of a number of internships, including the Knight Nonprofit News summer program in 2021, which saw her assist The Texas Tribune with audience engagement and targeted promotions.
"Amari's drive is otherworldly, and to achieve as much as she has at such a young age is impressive," said Jon Stemmle, co-director of MOJO Ad and a professor of strategic communication. "She's a presence for good on this campus with her leadership of NABJ in the J-School, Marching Mizzou, the Alumni Association Student Board and more. She's on her way to an incredible career, and this honor is just another stepping stone toward that."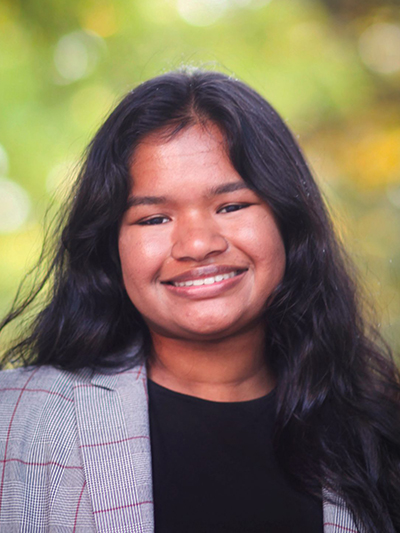 Momtaj, on the other hand, is a senior who recently completed a 10-week internship with global public relations firm Ketchum, where she remains a part-time fellow. She participated in the AAF's Mentorship Program as a mentor during her sophomore year and has been in MOJO Ad since last semester, an experience that has proven to be impactful as she prepares to pursue a career in agency work.
"Getting that real-world client experience while still in college is something I'll probably remember for a really long time," Momtaj said. "It has helped apply everything that I've learned these past four years in a medium where I feel like I'm not being babied. It's like, 'now I have all these skills, so let's apply them.'"
And when it comes to skills, Stemmle said Momtaj has talent to spare.
"In baseball they talk about a five-tool player, someone who can do everything on the field," Stemmle said. "Evanna is like that: she could lead a team, handle the research, create the strategy, figure out the audience and then create the promotional materials. She's an incredibly hard worker who can always be counted on to deliver excellence."
This year's class maintained an average GPA of 3.7 and was selected from more than 140 AAF college chapters around the nation.
Updated: February 2, 2023
Related Stories
Expand All
Collapse All
---