Strategic Communication Events Class Creates 'Footprint Project' to Promote Diversity and Inclusion
Columbia, Mo. (May 2, 2017) — The Footprint Project took place on Wednesday, April 19, from 9 a.m. to 9 p.m. in the Missouri School of Journalism. An all-day event created by the Events and Promotions class to bring awareness about inclusion and diversity to journalism school students, the event included an art gallery about diversity in the Palmer Room, a Wall of Inclusion in the Journalism courtyard, and a documentary screening of the film 13th in Fisher Auditorium along with a panel discussion.
The strategic idea behind the event was to encourage students to consider what it's like to walk in someone else's shoes for a day and therefore understand another person's experiences.
"We believe that as journalists and strategic communicators that it is so important for our students to understand people of all races, genders, and nationalities," said Melanie Forrest, who taught the class with Tanya Heath. "Taking a day to really focus on diversity and inclusion helps bring an understanding to all our students and gives them a professional insight that they will use when they graduate."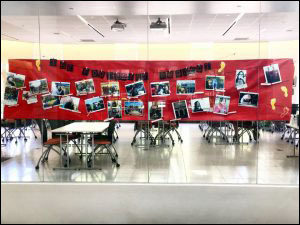 The art gallery featured visual displays of diversity through the eyes of the students in the J-School with the goal of promoting, discussing and building a supportive campus climate for all students. The Wall of Inclusion allowed students to write on the wall to pledge to be more inclusive and open-minded and share struggles they've had. After the viewing of 13th, a panel of professors from MU discussed the film and held a Q&A.
"With everything that is going on in the world, it is really important to understand all people before we graduate," Morgan Gunnels, a strategic communication student said. "This day gives us time to learn, reflect and grow."
The event also included laptop stickers and a Snapchat filter that was accessible for use around the J-School. The students who put on the event as part of their class were:
Jasmyn Barr
Hailey Brown
Neeti Butala
Devan Collins
Erika Fletcher
Morgan Gunnels
Jessica Hawkins
Natalie Jensen
Melissa Lavin
Rebecca Mardikes
Mackenzie Mock
Savannah Mudd
Gina Struttmann
Updated: October 20, 2020
Related Stories
Expand All
Collapse All
---