Students Network and Produce Stories While Attending Three Prominent National Journalism Conventions
Columbia, Mo. (August 20, 2009) — Nine Missouri School of Journalism students sharpened their reporting skills and networked with professionals at the annual conventions of the National Association of Hispanic Journalists, the National Association of Black Journalists and the Asian American Journalists Association this summer.
The National Association of Hispanic Journalists Convention



Five of the School's students and a recent graduate — Shannon Montanez, Cecilia Garza, Beverly Rivera, Guadalupe Martinez, BJ '09, Carolina Astrain and Elizabeth Reed – flew to San Juan for the June 20-28 NAHJ convention in San Juan, Puerto Rico.
Astrain and Reed were among the 37 students from across the nation selected to work as reporters while at the convention. Reed traveled to the opposite side of the island to compose a video on plantain thieves who steal from Puerto Rican farms. "It was so different from any story I've ever done," Reed said. "We had quite an adventure getting down there, and it made me excited for my future as a journalist."


The content that Reed and her peers produced was published on The Latino Reporter Digital Web site. They also blogged and twittered from the convention. With professional journalists attending the conference from NBC, NPR, ESPN and other media companies, Reed said she and her peers learned tips from some of the country's best multimedia journalists.
During the NAHJ gala Reed's story along with some of the other students' work was showcased on a big screen. That same night, Reed briefly met journalist Geraldo Rivera.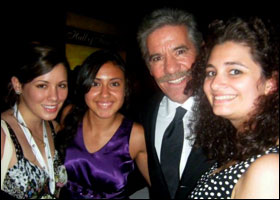 The multimedia journalism focus of the convention pleased Reed. "At the job fair I went to the CNN and USA Today booths, and they said they are looking for people who know how to do it all," she said. "That made me feel more confident in what I want to do."
Cecilia Garza, a freshman, went to the convention interested in magazine journalism but returned to the School eager to switch to convergence journalism. "This change came after receiving advice from many of the older journalists at the convention," she said. "They emphasized many times over that the journalist of today must be very versatile in using different strands of media."
Anna Romero, associate professor of radio-television journalism, advises the School's NAHJ student chapter.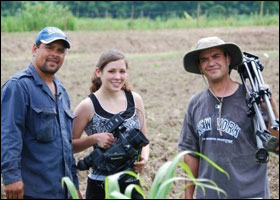 The National Association of Black Journalists Convention
Jarrad Henderson, a master's student studying photojournalism, and Veronica Wells, a convergence journalism student, attended the National Association of Black Journalists convention from Aug. 5-9 in Tampa, Fla.


Wells and her mentor, Allison Davis, a veteran journalist who has worked for NBC, MSNBC and the Scripps Network, discussed video-editing techniques and applying new technologies to tell stories. "Her technical savvy encouraged me to step up my game. She was exceptionally easygoing and a pleasure to work with," Wells said.
Wells conducted several interviews as she produced stories for video and print. Her first story covered low adoption rates of African-American children in which she featured a black family who had adopted two sons. "Going into their home and seeing the love they had for one another was exciting," Wells said. She also spoke with a local barber about media coverage in urban neighborhoods.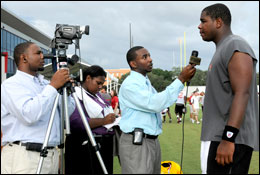 The highlight of Wells' trip came when she interviewed the daughter of Jackie Robinson, the first African-American major league baseball player. Sharon Robinson is the author of the book Testing the Ice, which details her childhood memory of her father. "Sharon spoke at length about being courageous enough to pursue all of your passions in life. That was advice I really needed to hear and was happy to receive," Wells said.
Wells said the convention fueled her passion for journalism. "Being a journalism student at Mizzou can by trying, and it's easy to lose focus of the ultimate goal," she said. "Speaking with other students, professionals in the industry and the subjects of my stories reconfirmed why I was so drawn to the profession in the first place. I learned what I'm really good at and what I still need work on. After attending the convention I feel like I have a clearer outline of the steps I need to take to be professionally fulfilled."
Holly Edgell, assistant professor of radio-television journalism advises Missouri's NABJ student chapter.
Asian American Journalists Association
April Choi, a senior in the print and digital news emphasis area, attended the Asian American Journalists Association convention in Boston Aug. 13-17. She was one of 11 students selected to participate in AAJA Voices, a convention news project that includes "mojo" (mobile journalism) and other news training opportunities for college students and professionals at the convention.
One of Choi's stories took her to Fenway Park to interview Japanese fans who were following some of their country's baseball players at a Red Sox vs. Detroit Tigers game. She also conducted an e-mail interview with Roxana Saberi, an Iranian-American freelance journalist who was arrested in Iran on charges of spying for the United States and sentenced to eight years of imprisonment. She was released in May, the day after she appealed her case in court.
Phou Sengsavanh advises the School's AAJA student chapter.
Updated: May 5, 2020
Related Stories
Expand All
Collapse All
---