Missouri School of Journalism alum Jasmyn Barr lands position at Google as producer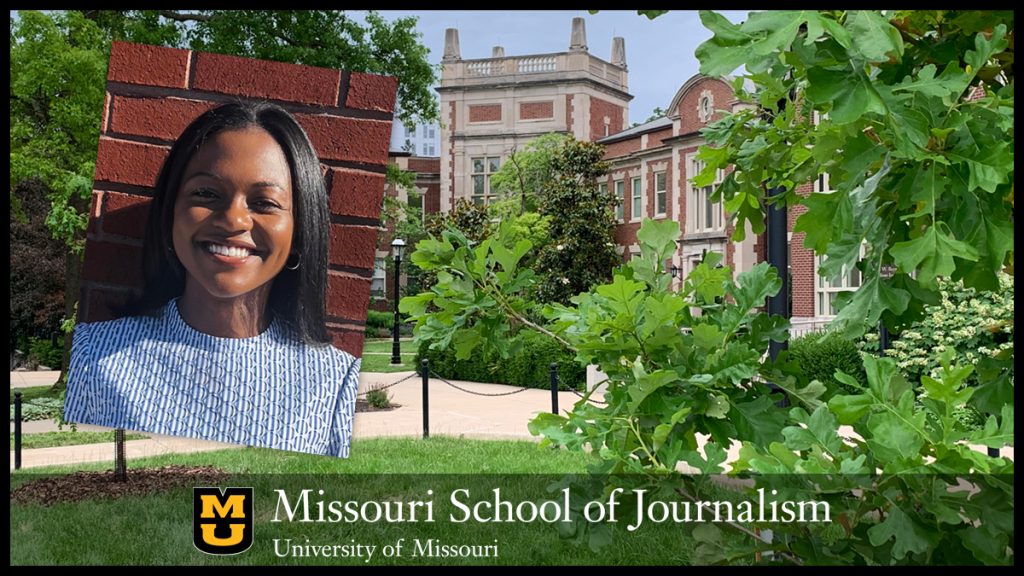 Columbia, Mo. (Aug. 25, 2022) — Jasmyn Barr, BJ '18, is now a producer for Google's Brand Studio in New York City, the latest summit in a decade that has seen her emerge from an ambitious and successful education at the Missouri School of Journalism into even more success as a strategic communication professional.
She credits the School with helping her build a foundation of connections and experiences that smoothed the transition from school to the workforce and, ultimately, to Google.
"This is a really big pinnacle for me, and a lot of the relationships I built at the J-School led me to the experiences and internships that got me to where I'm at," Barr said. "Going in, I didn't know about most of the programs I ended up being a part of, but the J-School is such a bank of knowledge."
Barr accomplished much during her time at the School of Journalism before earning her bachelor's degree in 2018. She studied in Brussels, where she interned at SWIFT — the international financial cooperative that made headlines in the early days of the Russia-Ukraine war for its status as a pivotal medium for international payments between countries — and she was named one of the American Advertising Federation's Most Promising Multicultural Students in 2017.
She got her first taste of New York City the summer before her senior year, when she interned at acclaimed marketing agency Ogilvy, and she knew then that she wanted to return. But her journey has had a number of notable stops along the way, including an internship-turned-full-time job right after graduation at global advertising agency Wieden+Kennedy, which brought her to Portland, Or., and immediately plunged her neck-deep into the world of advertising.
Her first campaign turned out to be a Super Bowl LIII TV ad, and she went on to produce a Nike ad starring Tiger Woods after his 2019 Master's win. It was a lot for responsibility for the freshly-graduated Barr, but the School's Missouri Method approach, with industry veterans as instructors that can inform their students by relating first-hand experience, had helped prepare her to hit the ground running.
"I really got fully immersed into that world very quickly at Wieden+Kennedy, but having had such a great support system from faculty, staff, and my peers at the J-School made things easier," Barr said. "The professors really pour their experiences into the students. Everybody has this willingness to pour knowledge into other people. Jamie Flink, for instance — I would go to her a lot and ask, 'Have you had a student who has done this?' or just ask her about her own career."
And while teachers like Flink and Jon Stemmle made an indelible impression on Barr, she also made quite the impression on her teachers. Flink recalls her former student's skills and bubbly personality in equal measure.
"Jasmyn grasped important concepts and strategically applied them in news ways," Flink said. "I'm not at all surprised that she found a home at an exciting company like Google. But her smarts aren't the only thing that I remember about her. Jasmyn's smile lit up the room. She was magnetic in that way."
Beyond the influence of her instructors, Barr also recognizes the impact of her membership in student organizations like the School's National Association of Black Journalists (NABJ) chapter, which exposed her to journalism students at all levels and interest areas. Having originally come to Mizzou to study broadcast journalism before finding that broadcast wasn't for her, NABJ helped her realize that she wasn't short on options.
"Being in NABJ, where there are broadcast people, strategic communication people, digital — all these different types of journalism students — it really opened my eyes to what the J-School had to offer," she said. "There is so much diversity of interests within NABJ, and chatting with people and getting to know their experiences really gave me some insight into what the next couple of years at the J-School could look like."
That element of flexibility in the School's curriculum was mirrored elsewhere within the School and Mizzou at large, which ultimately made the School a perfect fit in a life and career that has always prized balance between the demands of the profession and the necessity of personal enrichment.
"Mizzou was a place where I got the best journalism school, and I was also able to cheer and get that traditional college experience," she said. "It gave me more than just an education: my personal goals and career goals were in perfect alignment. It felt like home."
Updated: August 25, 2022
Related Stories
Expand All
Collapse All
---