NABJ Media Tour connects journalism and strategic communication students with high-powered media professionals in Washington, D.C.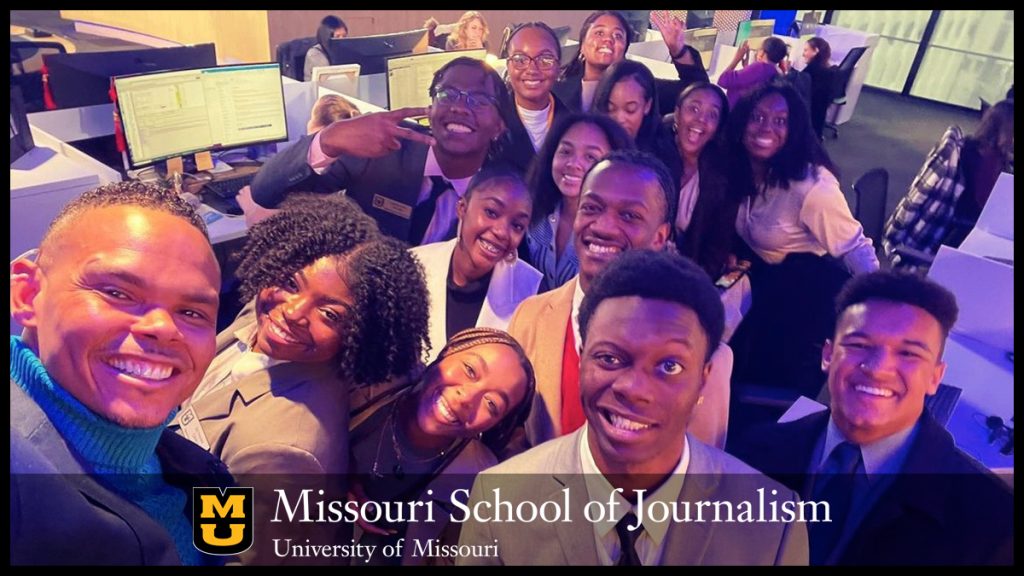 COLUMBIA, Mo. (Feb. 27, 2023) — In late January, 30 members of the Mizzou student chapter of the National Association of Black Journalists embarked on a tour of Washington, D.C.'s powerhouse media organizations for the annual NABJ-MU Media Tour.
NABJ-MU's first in-person media tour since the onset of the COVID-19 pandemic allowed students to learn from — and network with — journalists and strategic communicators from all over Washington's media ecosystem.
"The media tour is a great opportunity for the NABJ students to see journalism and strategic communication professionals in the potential places where they may want to work and ask questions about what they do," said Ron Kelley, faculty advisor to NABJ-MU — a role for which he won last year's MU NAACP Image Award. "This opportunity opens up so many doors for the students and it's a great way for these organizations to see what wonderful and talented students we have in the NABJ student chapter."
The group visited public relations and crisis management firms such as Edelman (whose CEO, Richard Edelman, won a Missouri Honor Medal in 2021) and Trident DMG, newsrooms such as USA Today, NPR, the CBS Washington Bureau and Bloomberg News, and public policy organizations like the Congressional Black Associates. One of many highlights came during the NPR visit, when students had the opportunity to witness a Tiny Desk Concert live.
"The media tour allows you to dip your toes into all the opportunities that are available, and the people you're talking to might know somebody in your desired area," said Amari Foster, president of NABJ-MU and a graduate student in the School's Accelerated Master's Program. Foster was recently named one of the 50 most promising multicultural students in the nation by the American Advertising Federation. "I just love that we're able to have this community of black student journalists at Mizzou and that people are able to get opportunities through that community."
The experience was cathartic for Foster, who relished the chance to return to an in-person tour after three years of virtual or cancelled versions due to the pandemic. She was equally thrilled to be able to offer the experience to other students, most of whom had started at Mizzou after the onset of the pandemic and had not had the chance to apply for an in-person tour until this year's iteration.
Of course, the in-person nature of the tour wasn't the only way that an emphasis on accessibility came into play.
"I was really happy about the fact that this was financially accessible to students," Foster added. "I'm very grateful to the School of Journalism for seeing NABJ's vision year after year and always backing us."
As for access to the many organizations and media professionals that make Washington one of the country's news and communications nerve centers, Foster and the rest of NABJ-MU's executive board utilized connections from faculty like Alison Young, director of the School of Journalism's Washington Program, to set up the trip and its many stops themselves.
Growing together
Unlike more individualized opportunities for education and networking, such as internships, the tour created fertile ground for NABJ-MU members to bond with each other as they learned about the many professional prospects available to those with a world-class education in journalism and strategic communication. For Avery Grosvenor, the group nature of the experience was a powerful reminder of the importance of "networking across."
"Networking above is looking up toward your mentors, your managers, your bosses at work, but at NABJ we're also taught to network across," said sophomore Avery Grosvenor, who was among the finalists in the Donald W. Reynolds Journalism Institute's 2022 Student Innovation Competition during his freshman year. "That means looking to your left and your right and saying, 'hey, we're on this journey together. How can we build and grow together?' We're all in college, we all have an idea of what we might want to do, but on the tour we were able to be vulnerable together in that likeminded space of, 'we're here for the connections and the opportunities.'"
Junior Sarah Parisien, who — like Grosvenor — applied successfully to last year's planned trip to Houston before its cancellation, agreed that the opportunity to experience Washington with a cohort of fellow NABJ-MU members added a special dimension to the trip.
"There are nuances and different things that we as Black journalists might experience that a lot of other journalists might not — NABJ is a safe space, and that's part of why I joined," Parisien said. "We're across all grade levels, and some of us didn't know each other that well, but over the course of five days, we all got to a place where we really bonded. And at the same time, we got to speak to a ton of different people and network with them, and it was really great to be there in that atmosphere."
But for all the benefits the group experienced as a team, Grosvenor emphasized that the tour also left plenty of room for individual growth.
"Like everything else in college, this trip is about exploring and learning new things about yourself," Grosvenor said. "There are things I took away from this trip that I didn't even know I was interested in, and now I have the number for the investigative editor at USA Today. …It was incredible and something that I will never forget."
Updated: February 27, 2023
Related Stories
Expand All
Collapse All
---