Missouri Chapter of the National Association of Black Journalists Named a Finalist for Student Chapter of the Year
Mentoring, Site Visits and Personal Branding Programs Are Among Reasons for the Selection
Washington, D.C. (June 9, 2014) — The University of Missouri chapter of the National Association of Black Journalists is one of three finalists for the 2014 student Chapter of the Year Award. The award is given based on criteria, which includes but is not limited to the number of new members who joined the chapter and NABJ. The chapter's campus and community activities and programs also are considered in the selection.
The other finalists are CUNY-York College Association of Black Journalists and the University of Florida chapter of NABJ (UF-NABJ).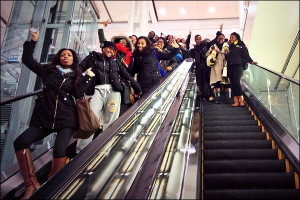 "NABJ is particularly proud of its student chapters for showing a steadfast devotion to NABJ and to the media profession," NABJ President Bob Butler said. "The skills that students obtain from leading campus chapters of the organization will surely help them professionally. It's also a tremendous service that they perform not just for their members, but for their entire campus communities. Our student members are always viewed as leaders on their respective campuses."
NABJ-MU meetings discuss everything from internship opportunities to social media branding and personal finance. The chapter organized a mentoring program, which paired upperclassmen mentors with underclassmen mentees. In the spring students visited Philadelphia where they visited NABJ members at WCAU/NBC 10 and at Radio One. The chapter partnered with the School's chapters of the Asian American Journalists Association, National Association of Hispanic Journalists, Online News Association, and Radio Television Digital News Association to host their 2nd annual Unity Conference where CNN correspondent Nischelle Turner, BJ '98, and a NABJ member, was the keynote speaker.
Karen Mitchell serves as faculty adviser to the NABJ-MU chapter. Alexis Rogers was the 2013-14 president.
This year's winner will be named during NABJ's 39th Annual Convention and Career Fair which takes place July 30-Aug. 3 in Boston.
Updated: July 27, 2020
Related Stories
Expand All
Collapse All
---