Kandice Head Selected for #NABJNAHJ16 Student Multimedia Project
The National Convention Will Be Held in Washington on Aug. 1-6
Washington (June 30, 2016) — Kandice Head, BJ '16, is among the nationwide pool of students who will participate in the Student Multimedia Project during the National Association of Black Journalists (NABJ) and the National Association of Hispanic Journalists (NAHJ) Convention and Career Fair in Washington, D.C.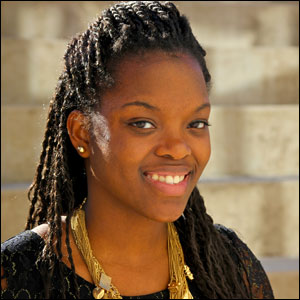 Head, along with the other college students, will receive an all-expenses-paid fellowship to cover the 2016 convention and local stories in the host city. This year's program will take place Aug. 1-6 at the Marriott Wardman Park Hotel.
This will be the second year that Head has been selected for the public relations team. Her responsibilities include covering the conference via social media, writing press releases, directing media availabilities, doing video editing and production, and assisting in media escorts. In Washington, as at the 2015 Minneapolis convention, she says "These are amazing experiences that teach me so much."
A Chicago native, Head studied strategic communication. She is currently an account management intern at the Possible agency in New York. Other work experiences and honors include Fluent360 production intern, a Louis Carr Internship Foundation finalist, a NABJ Public Relations Fellow and a Solomon Public Relations Fellow in 2015, as well as a Teach for America campus campaign coordinator intern in 2014.
NABJ President Sarah Glover said the Student Multimedia Project offers its student members the opportunity to receive on-the-job training from their dedicated professional journalists.
"I'm a proud 'NABJ Baby' from the 1995 student projects and am happy to see this crop of students get a first-class training opportunity at #NABJNAHJ16," Glover said. "The program gives both NABJ and NAHJ students an opportunity to showcase their talents to the membership and help further their journalistic skills."
Mekahlo Medina, NAHJ President, said, "As a former student projects participant and mentor, I know firsthand the value of the great project, and I'm happy we are continuing to develop the next generation of Latino journalists."
The students produce both breaking news and long-form multimedia stories, which are featured in the convention's daily newspaper (print and online), and on a daily newscast. Additionally, the students promote special events, programming, and sponsor-related information on the organization's social media platforms.
Updated: September 29, 2020
Related Stories
Expand All
Collapse All
---