National Association of Black Journalists Visit Chicago for Annual Media Tour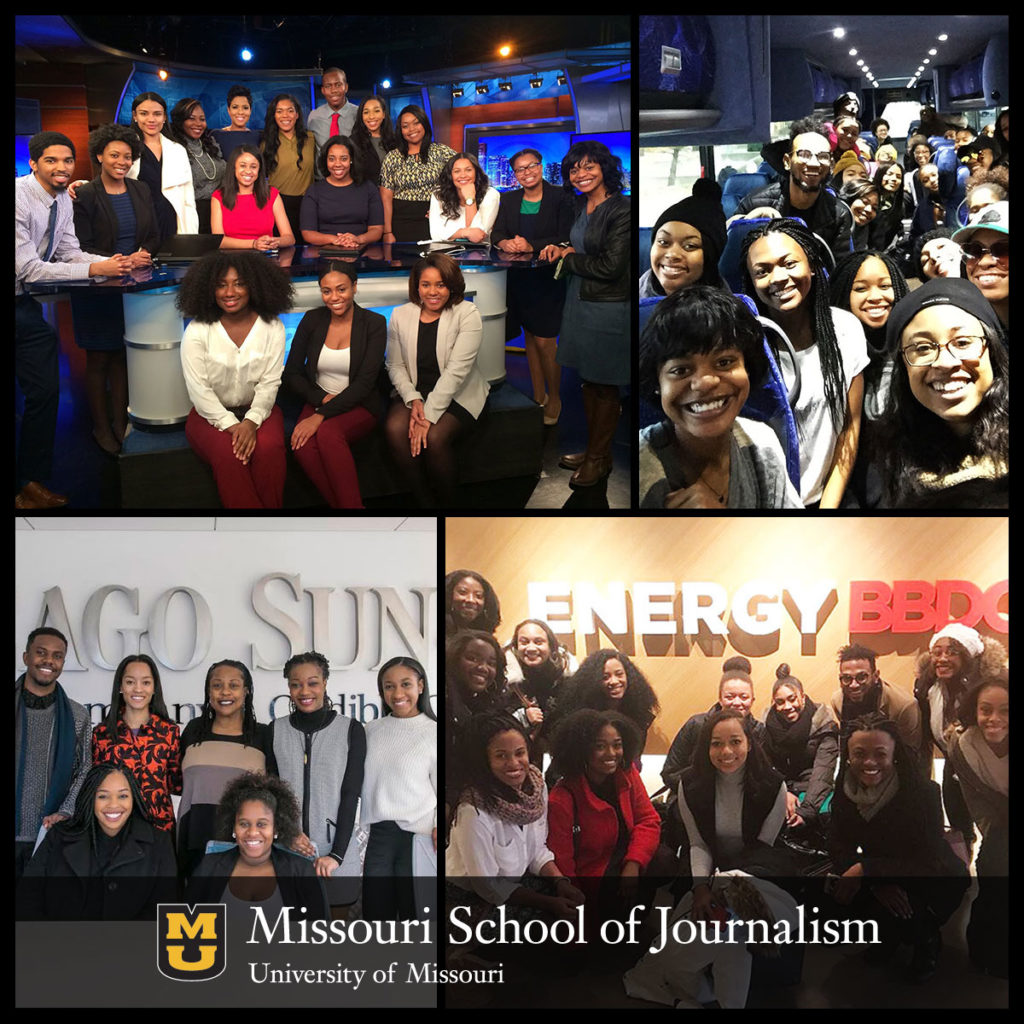 Students Take Week-Long Trip to Network with Top Industry Pros
By Seinga Macauley
Columbia, Mo. (Feb. 22, 2017) — The National Association of Black Journalists Ale Chapter (NABJ-MU) at the University of Missouri took on Chicago for this year's annual Media Tour.
Every spring semester, NABJ-MU takes a week-long trip to a top media market in journalism. The purpose of Media Tour is to give students the opportunity to connect and network with professionals in their desired areas of journalism or strategic communication. In previous years, the organization visited Atlanta, New York City, Washington and other major media markets.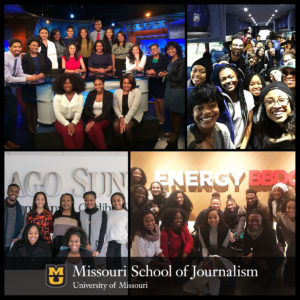 Starting in November, NABJ-MU members submitted applications and interviewed for the chance to be selected for the trip. This year, 36 members – the largest number to ever participate – were selected for the Chicago trip.
Noted Bobbi Watts, NABJ-MU vice-committee chair, "With Chicago being such a dominant market, there was a lot of opportunity and diversity within our stops."
During the trip, students split into broadcast, print and strategic communication groups, visiting multiple media outlets, print publications and advertising agencies such as NBC Chicago, Ebony/Jet Magazine and Leo Burnett. Members also had the chance to bond with NABJ and MU alumni through multiple networking events hosted by the Mizzou Alumni Association and other media outlets.
"For me, it was really important to offer students this kind of exposure to help them better decide what they would like to do after graduating," said Renee DuBose, BJ '08, who now works as a communications designer at Initiative. "I can attest to the transition from school to career being a challenge for me and the connections made from media tours helped me to get an internship after graduating."
NABJ-MU strives to give students opportunities to build a strong network inside and outside the classroom. This is what makes Media Tour one of the organization's most anticipated events of the school year.
"I gained a better understanding for what I want to do with my life as a whole," sophomore Gabri Mays said. "Being able to meet people who were doing exactly what I want to do in the future was very fulfilling."
The National Association of Black Journalists Ale Chapter is a group of journalists and media professionals at the University of Missouri. The organization's main purpose focuses on striving for excellence by encouraging diversity, educating through mentorship and promoting unity in the field of journalism. The MU chapter was named national Chapter of the Year by the national organization in 2014. The MU chapter was also a recipient of the NAACP Organization of the Year award in 2013. Associate Dean for Graduate Studies Earnest Perry serves as the chapter adviser.
Updated: March 30, 2020
Related Stories